Posted on:
October 25th, 2017
---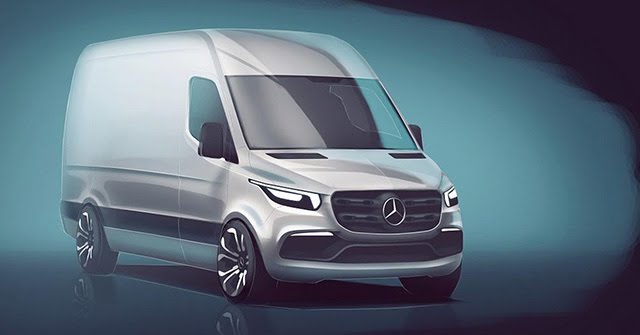 Mercedes-Benz Sprinter 2018: First official image
The first official image of the 2018 Mercedes-Benz Sprinter - in the form of a computer graphic drawing - was shown in Atlanta (USA) where the largest North American commercial vehicle exhibition "North American Commercial Vehicle Show (NACV)" takes place.
As can be seen from the sketch, the new 2018 Mercedes-Benz Sprinter has a "muscular", sporty appearance. It is enough to look at the headlights, the radiator grille and the front bumper. The van will receive various electronic driver assistance systems, as well as an arsenal of variants, which will make it even more convenient as an individual transport.
It's officially stated that the 2018 Mercedes-Benz Sprinter will enter the European market in the first half of next year , and then it will become available in other continents. A big bet is made on the US market. And it wasn't a coincidence that the first sketch was presented there.
It was also announced that a new plant is being built in the city of North Charleston, which will produce the next-generation Mercedes-Benz Sprinter. Current US-market Sprinters are delivered to the North American enterprise in disassembled form, where it is pre-assembled. The new plant will significantly shorten the delivery of vehicles to the customers.
The 2018 Sprinter is the first Benz transport vehicle to follow Mercedes' adVANce business initiative, a push to modernize vans with cutting-edge technology and make Mercedes more than just a car company.
The first generation of Mercedes-Benz Sprinter appeared in 1995. Since that time more than 3.3 million cars of different generations have been manufactured, which operate in 130 countries around the world. This is the most massive commercial car with a three-beam star. According to the results of the first half of 2017, Sprinter showed record sales figures for 20 years - 96,200 units, which is more than for the first six months of 2016 (95,100 units).
Read also: Mercedes-Benz Sprinter Vans hit 3 Million Sales In 20 Years
Sprinter Van Rentals looks forward to Sprinting with you in the 2018 MB Sprinter!
---