Brief description
This Sprinter is all about a great image! It's a well rounded modern mix of comfort, sporty style, youth and class. Whether you are inside or outside this Mercedes Benz van you will feel inspired.
Mercedes Benz Sprinter van with 11 large recliner seats & 2x5 ft trunk space.
Year of manufacture 2023. Huge TV and sound system. Rear AC, and USB outlets. Over 6ft tall on the inside, 170" WB long. Lot's of safety and driver assist features. Trick black rims really make this luxury gem stand out. Very nice, modern Mercedes in an attractive tan color.
The last row, a 3 seater bench, transforms into a bed. It may also serves as an additional luggage holding area if needed. In this case the van would hold 9 people total.
---

Quick Specs
Seats: 11 people
Cargo Area: 2 x 5 ft. or 5 x 5 ft as 8-seater

Services available
Reasonably­priced pickup/delivery to your home or business
Most locations offer rentals 7 days a week and 24 hours a day
One­way rentals available
Unlimited mileage packages available
Nationwide deliveries

Features
Huge LCD TV screen
CD/DVD player
Radio, SD-Card Reader & Aux input
Navigation
Power steps
Custom wheels
Carpeted floors
Curtains
Sprinter with bed, last bench turns into a bed.
---
Gallery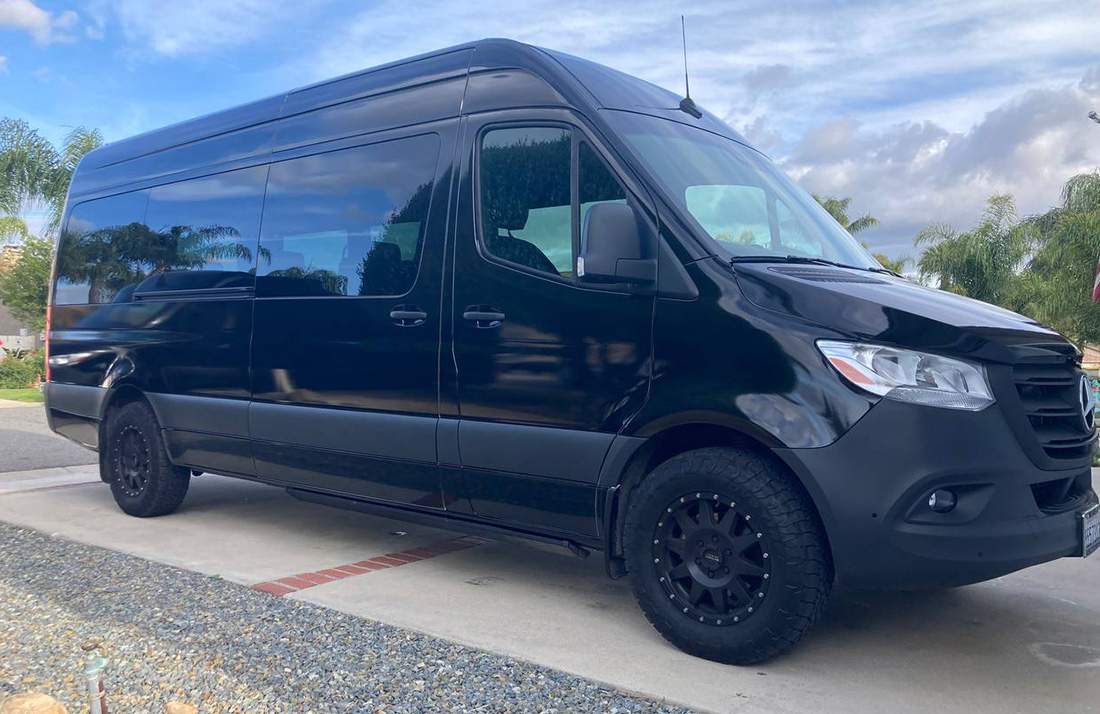 What's Next:
We have digitized the rental process and fully eliminated rental counter interaction so you can be in and out in no time. You can conveniently make an online reservation here and e-sign your rental agreement a few days before your arrival.
Trips can start at any of our pick-up locations or you can request to have your van delivered.
Enjoy our hassle free,no questions asked, full cancellation policy.