Brief description
Our large Ford Crew Cargo Van is a new class of van that fills the need between an uncomfortable maximum-sized Box Van and the older design of a Ford Econoline Cargo Van.
Our "Built Ford Tough" (tm) Crew Cargo Vans are available in 148" wheelbase version that are perfect for any location including tighter metro driving and parking spaces.
The Ford Transit Crew Cargo Maxi-Van is already popular in Europe, and now you can drive down your operating costs and improve your productivity and bottom line by driving one of our rental vans today.
With an almost 250 cubic feet of load space and a turning radius comparable with the smallest half-ton pickup truck, so you can find parking near your client's place or get into tight spaces.
---

Quick Specs
Diesel and EcoBoost Turbo options mean better performance and economy: averaging 30+ miles/gallon
Sophisticated interior tech and comfort features: one of the most civilized large vans ever
Big windows in back: increased safety and maneuverability
Lower floor: more efficiency in loading and unloading
Increased passenger comfort: comfortable and stylish

Services available
One-way rentals available Reasonably-priced pickup/delivery to your home or business
Unlimited mileage packages available Nationwide service Call for Long Term Rentals and Flex Leasing Rates

Features
Exterior: Easy to drive, maneuver it into the tightest corners to board your people and tons of cargo.
Colors may vary: Desert Silver, Arctic White, Metallic Gray.
Total seating: 5.
Right side sliding door
Wheelbase: 147.6"
Max. cargo height: 72.0"
Vehicle height 100.8"
Cargo space after after last passenger bench: 15"
Transmission: Automatic
Enginge: Gas
Moving loads of cargo & seating up to 5 people comfortably can be a challenge.
With just a few clicks you can rent a 5 Seater Crew Cargo van and have it delivered to your home or business.
All paperwork is completed online so you can get about your business.
We offer personalized service, so please don't hesitate to call us for exceptions.
Ford's strong Gas engines making them very fast and fuel efficient.
Quality and durability are also standard with this van because it is manufactured in the USA by one of the top automakers in the world.
Talk about fuel-efficiency, this Ford Transit Passenger Van gets you more miles between fill-ups with 30+ miles a gallon.
So, give yourself more money for more fun on your next trip!
---
Gallery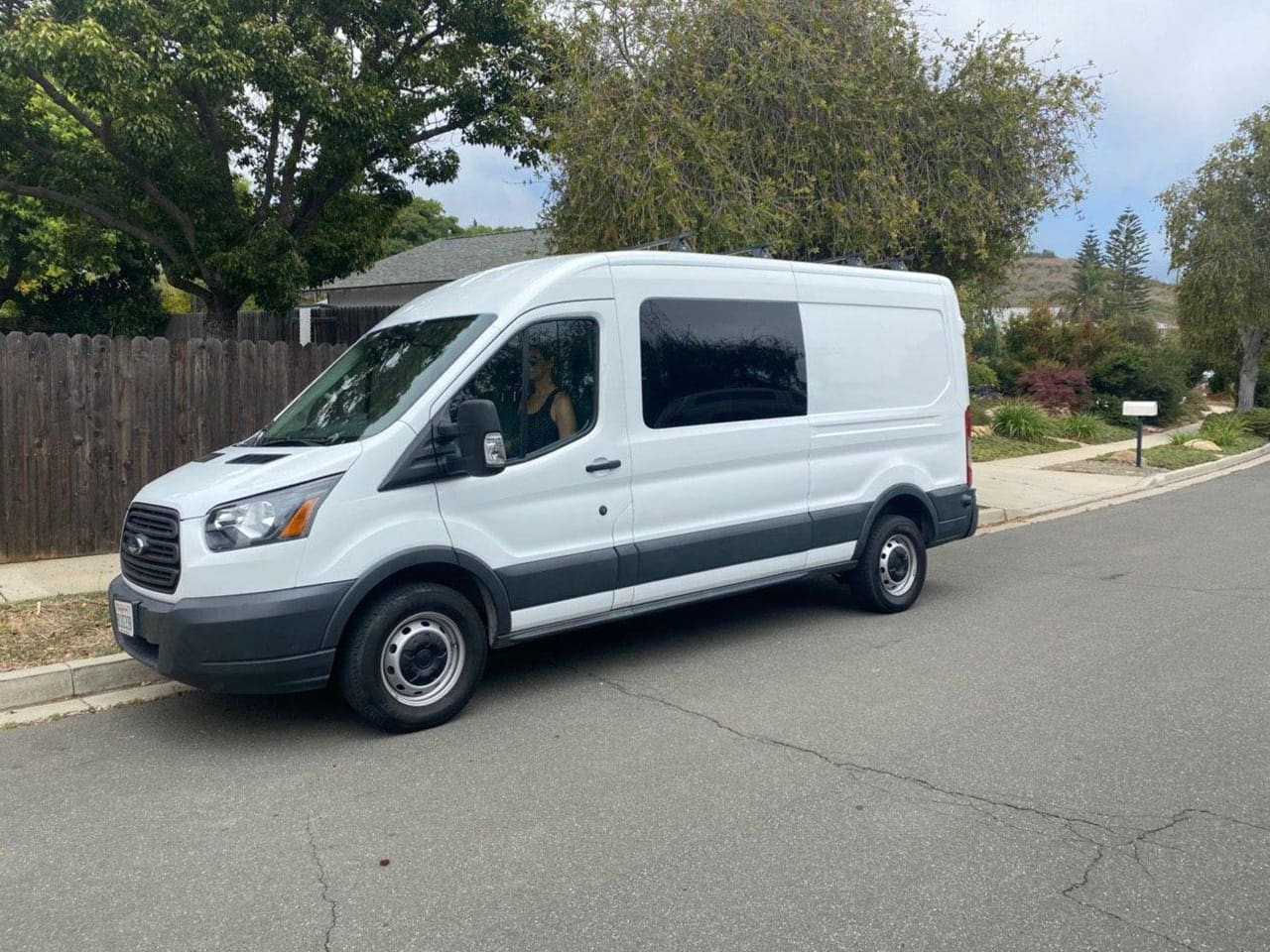 ---
Rental rates
Reasonably-priced pickup/delivery to your home or business
(Most locations offer rentals 7 days a week, 24 hours a day)
One-way rentals available
Unlimited mileage packages available
Nationwide deliveries
Call for long term rentals and flex leasing rates
*Rates are dependent upon availability, rental location, usage, optional features, and season***, and are subject to change without notice. Transfer fees may apply. Rates are based on a 24-hour "rental day" starting at the time of rental.
**Rentals 3 days or less may be at a higher daily rate and subject to limited availability. Occasionally shorter rentals cannot be confirmed more than 10 days in advance. However, we will most certainly try to accommodate your requests, so please give us a call.
***Season requirements: (May-September & Holidays) additional day supplements and extended minimum rental periods may apply. We offer exceptional personalized service and always to accommodate our customers, so please don't hesitate to call us. Please review our (Terms, Payment and Cancellation) policies