Brief description
Need space? We got it! This van's interior is 14 feet long, 5 1/2 feet wide and just over 6 feet in height! With seating for two, this van allows you to carry almost anything by yourself, without the worry of having to put your personal belongings into someone else's hands. The Cargo Sprinter is the best choice for moving out, carrying large equipment like motorcycles/surfboards or other gear, and if you wanted to, you could even sleep in the back by throwing down an air mattress.
Reserve your very own Mercedes Benz Sprinter Cargo van rental today!
See also: New Jersey Cargo Vans
---

Quick Specs
Seats: 2
Outside Overall Length 22′ 9″ | Height 9′ 10″
Cargo Bed Length behind 2 front seats 14′ | Width 5′ 9″, Wheelhouse 4′ 5″
Door Openings Height – Rear & Side 6′ | Width – Rear 5′ 1″
Interior Height – Front 5′ 4″ | Rear 6′ 4″ | Loading Height – Rear 2′ 3″
Cargo Volume (Cu Ft) 494 | Turning Diameter in ft (Wall-to-Wall) 54′

Services available
Reasonably ­priced pickup/delivery to your home or business
Most locations offer rentals 7 days a week and 24 hours a day
One­way rentals available
Unlimited mileage packages available
Nationwide deliveries

Features
May has Large windows right behind driver seats unless especially requested.
Great Fuel Economy: Up to 22 MPG diesel engine
Towing Available: Yes! (max. 5000 lb)
---
Gallery
2023 (from 2007) Mercedes Benz Sprinter, Cargo Van, High Roof with rear roof AC
170-inch wheelbase version:
Overall outside height: 107.3 inches street to rear air condition
Overall outside length bumper to bumper: 274.3 inches
Overall outside width mirror to mirror: 92.3 inches
Wheelbase: 170 inches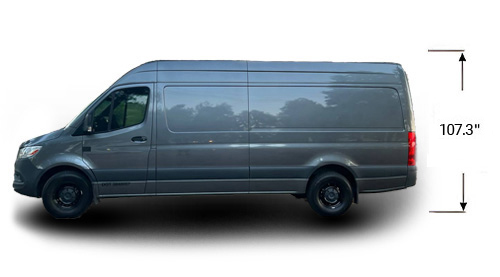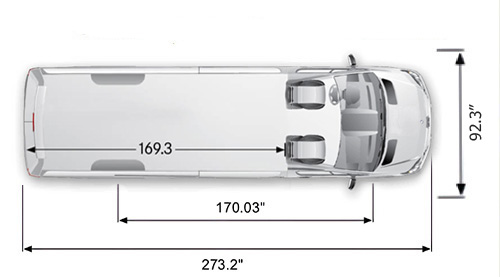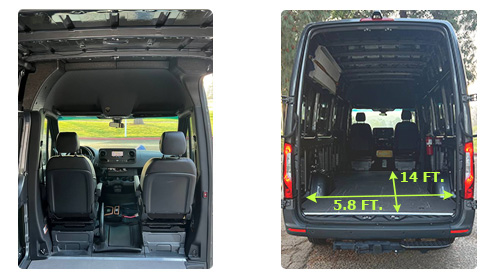 GREEN FOR GREEN When it comes to getting there, the super clean and fuel efficient Mercedes BlueTEC Diesel engine will surprise you with its quiet power, torque and its MPG. The 6 cylinder turbo ­diesel engine with a 3 liter/185 Horsepower features Diesel Exhaust Fluid (DEF) emission treatment for near breathable exhaust fumes.
---
What's Next:
We have digitized the rental process and fully eliminated the rental counter interaction so you can be in and out in no time. You can conveniently make an online reservation here and e-sign your rental agreement a few days before your arrival.
Trips can start at any of our pick-up locations or request getting your van delivered.
Enjoy our hassle free - no questions asked full cancellation policy.