Brief description
Transit passenger vans with luxury seats for 9 people with 3 ft x 5 ft luggage room.
This van offers 7 wide recliner business class seats for everyone in the rear. There is plenty of luggage room or cargo space in the walkway inside the cabin to pack 4 large suitcases or a carry-on for everyone.
These vans have low interior noise and enough height for easy seating. It's like having a business class seat for everyone.
The Ford Transit conversion van with reclining captain's chairs provides a luxurious and comfortable travel experience. These chairs offer extra comfort and convenience, allowing passengers to relax and enjoy the ride.
In addition to the reclining large seats, the 9-seater Ford Transit van offers a range of other premium features like, leather upholstery, climate control, powerful rear AC and advanced safety features. With these amenities, passengers can enjoy a first-class experience while on the road.
Overall, the Ford Transit conversion van with reclining captain's chairs is a more affordable alternative to the luxurious Mercedes Benz Sprinter van.
---

Quick Specs
EcoBoost engine averaging 17.5 miles/gallon
Sophisticated interior tech and comfort features: large van seating
Big windows in the back: increased safety and maneuverability
Lower floor: more efficiency in loading and unloading
Increased passenger comfort: comfortable and stylish

Services available
Reasonably ­priced pickup/delivery to your home or business
Most locations offer rentals 7 days a week and 24 hours a day
One­way rentals available
Unlimited mileage packages available
Nationwide deliveries
---
Gallery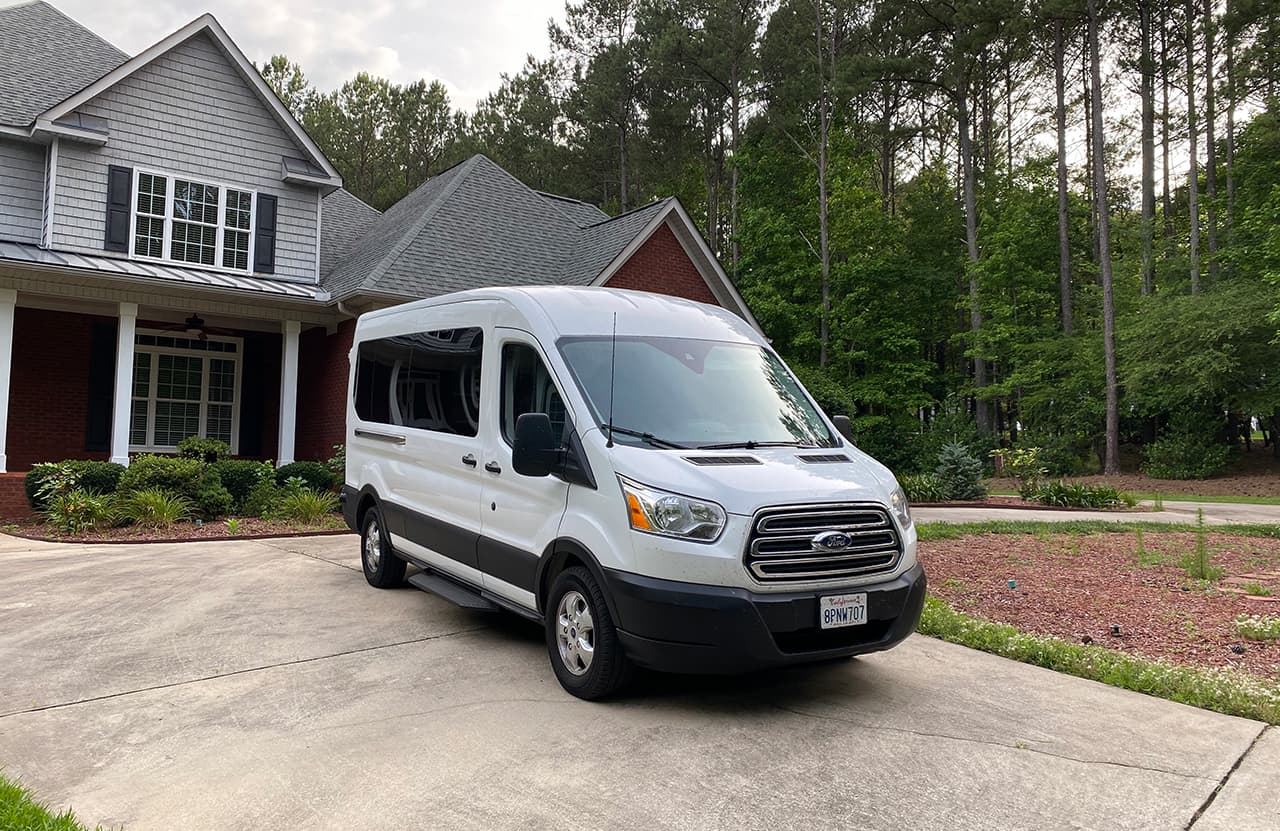 ---
What's Next:
No rental counters, invite additional drivers, e-sign and settle up days before your arrival. We've made renting a van super easy and fast by going digital, see how this process works here.
You can conveniently reserve a van with first class luxury seats online by clicking here.
Make free changes, and enjoy a hassle-free, no-questions-asked, full refund policy.