12 Seater 4wd Sprinter van rental
The Mercedes Benz Sprinter 4wd van is a classy looking 12-seater with slightly reclining seats and a high roof so that passengers can get in and out of their contoured bench seats with ease.
This clean diesel engine powered van is automatic with many drive-assist features and looks like - you guessed it - a Mercedes Benz van.
You can fit lots of cargo and large suitcases in the "trunk", Behind the last row of seats is a 5ft wide by 3 ft deep boot which is easily 3 feet high making it an extremely handy space. You can also use the cargo hooks on the floor to secure your luggage.
If you are planning to bring a large amount of luggage, bicycles, golf-bags or band/music equipment then you may want to rent a 12 seater Sprinter instead, which has a 5x5ft cargo space.
Twelve seater Sprinter vans come in different colors: we have dark gray, anthracite, black or desert in our fleet.
---

Quick Specs
Seats: 12 individually reclining bench seats
Cargo Area: 3 feet long by 5 feet wide
Interior Van Height: 6+ feet
Fuel Economy: Up to 20 MPG diesel engine
Towing Available: Yes (max. 5000 lb)
4x4
Tank reach: A tank of diesel fuel may take you up to 400 miles.
This vehicle does not need to be charged electrically.

Services available
Reasonably-priced pickup/delivery to your home or business
Counterless rental process
24/7 Attended free pick up and drop with reservation
One-way rentals available
Unlimited mileage
Nationwide deliveries
Free additional drivers

Features
14-22 inch LCD TV screen
CD/DVD player
Radio & AUX input
Lots of legroom
Ample luggage space
Blind Spot Monitors [some vans]
Tall Roof, stand up inside the van
---
Gallery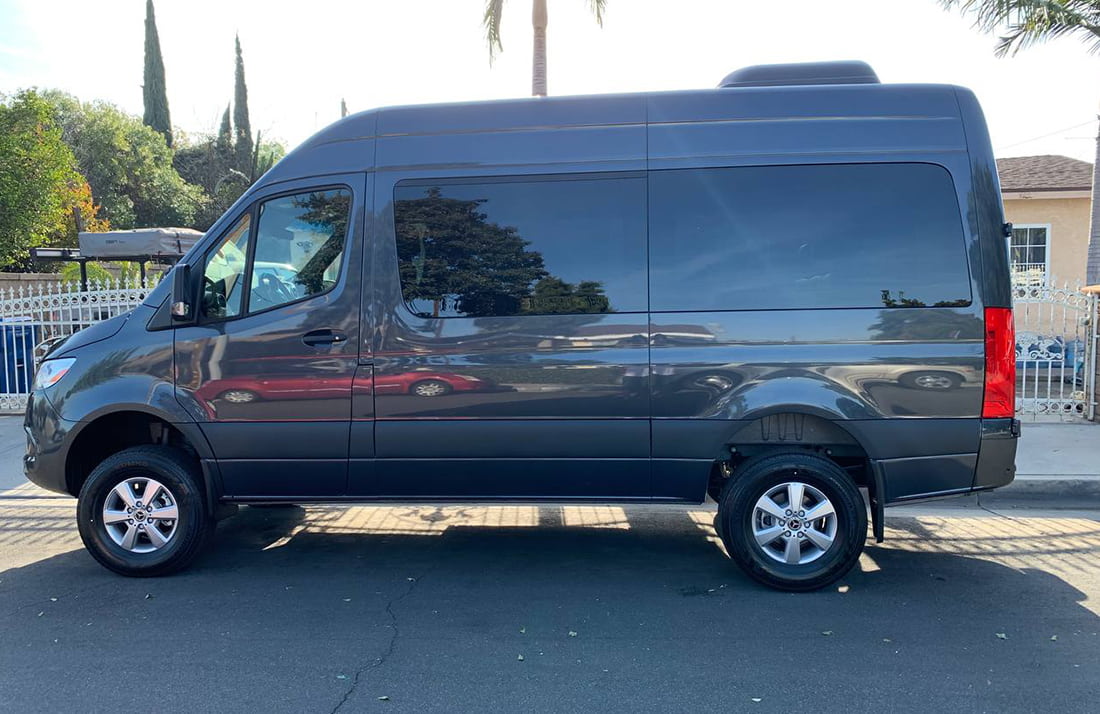 FAQ
Q: What is the difference between a short 144 inch wheelbase 12-seater Sprinter and the 170 long van?
A: Longer Sprinters have a 170 inch wheelbase 12 seats plus a 5 x 5 foot luggage space. Shorter vans with a 144 inch wheelbase come with 12 seats and a 2.5 x 5 foot cargo space behind the last bench.
How Green Are you? This Mercedes Benz cleantech diesel engine uses a specialized exhaust liquid called DEF which is injected into the exhaust and converts NOx gases (harmful emissions fumes) into nitrogen and water.
Reserve this type of Mercedes 12 Seater van for Southern California, Phoenix, Las Vegas, and other locations by here.
What's Next:
We have digitized the rental process and fully eliminated rental counter interaction so you can be in and out in no time. You can conveniently make an online reservation here and e-sign your rental agreement a few days before your arrival.
Trips can start at any of our pick-up locations or you can request to have your van delivered.
Enjoy our hassle free,no questions asked, full cancellation policy.