Mercedes-Benz 15-Seater Sprinter Van
Mercedes-Benz is synonymous with luxury and the Sprinter Van is no exception. Easy to drive and roomy, our 15-seat Passenger Sprinter includes contoured bench seats with individual headrests, an incredible amount of legroom, ample luggage space and a flat screen TV & DVD player.
Make a statement in style and comfort with this one-of-a-kind passenger van. Our vans turn on a dime and turn heads. These vans get great fuel economy as compared to other less spacious passenger vans. So bring the whole group, suitcases, golf clubs, bicycles, furry friends and yes, even the kitchen sink would fit.
Reserve your very own Mercedes Benz Sprinter 15 seater van rental today!
---

Quick Specs
Seats: 15 seats with headrests
Driver & Passenger bucket seats + 4 rows of benches
Cargo Area: 2.5ft long x 5ft wide
Interior Van Height: 6ft
Fuel Economy: Up to 20 MPG diesel engine
Towing: Available on some vans (max. 5000 lb)

Services available
Reasonably-priced pickup/delivery to your home or business
Counterless rental process
24/7 Attended free pick up and drop with reservation
One-way rentals available
Unlimited mileage packages available
Nationwide deliveries

Features
Smart TV's with HDMI, stream from phones/iPads (32" to 40" Vizio 4k TV's)
Radio with AUX input, SD-Card Reader & CD player
Rear Air Condition
Lots of legroom
Some vans have slightly reclining seats
---
Gallery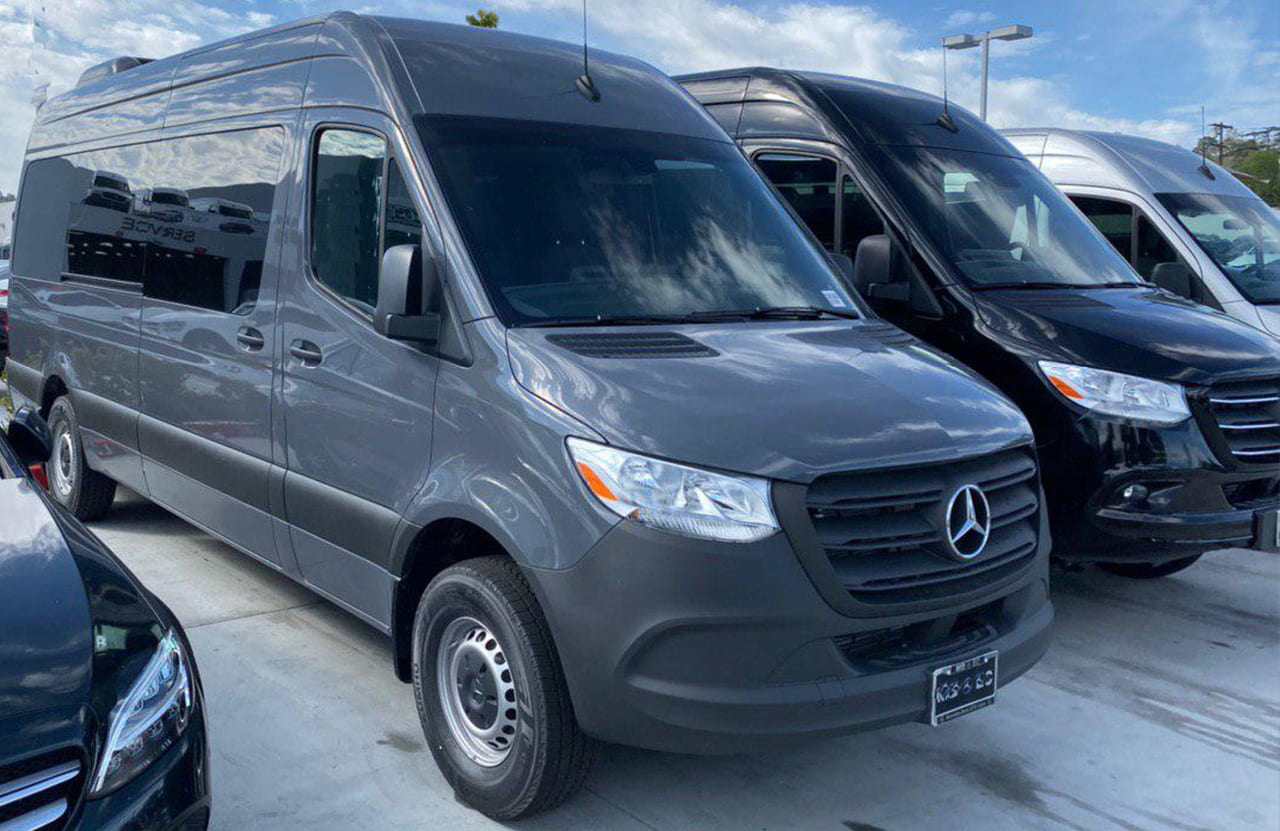 GREEN FOR GREEN When it comes to getting there, the super clean and fuel efficient Mercedes BlueTEC Diesel engine will surprise you with its quiet power, torque and its MPG. The 6 cylinder turbo ­diesel engine with a 3 liter/185 Horsepower features Diesel Exhaust Fluid (DEF) emission treatment for near breathable exhaust fumes.
---
What's Next:
We have digitized the rental process and fully eliminated the rental counter interaction so you can be in and out in no time. You can conveniently make an online reservation here and e-sign your rental agreement a few days before your arrival.
Trips can start at any of our pick-up locations or request getting your van delivered.
Enjoy our hassle free - no questions asked full cancellation policy.