Mercedes-Benz Sprinter Van Dimensions
What are the exterior dimensions of Mercedes-Benz Sprinters?
How many Sprinter sizes are there?
In the US, Sprinter vans come in two different length sizes:
144 inches wheelbase Sprinter vans, the short version, those vans are 233.5 inches long
170 inches wheelbase Sprinter vans are the long (XL) version, this Sprinter is 274.3 inches long
The XXL vans are rare in the US, and the total length is: 290 inches.
2023 (from 2007) Mercedes Benz Sprinter, 12 Passenger Van, High Roof with rear roof AC
144-inch wheelbase version:
Overall outside height: 107.3 inches street to rear air condition
Overall outside length bumper to bumper: 233.5 inches
Overall outside width mirror to mirror: 92.3 inches
Wheelbase: 144 inches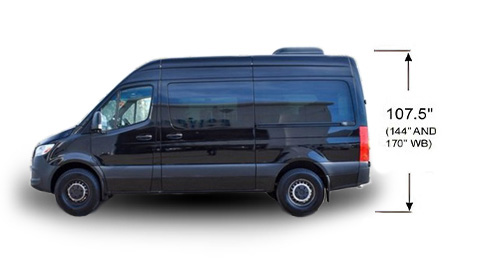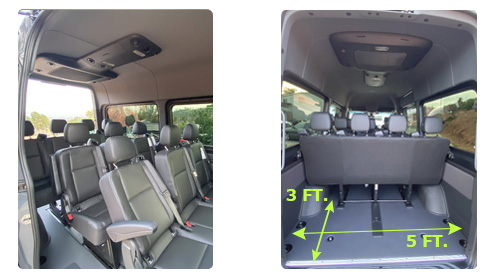 2023 (from 2007) Mercedes Benz Sprinter, 12 Passenger Van, High Roof with rear roof AC
170-inch wheelbase version:
Overall outside height: 107.3 inches street to rear air condition
Overall outside length bumper to bumper: 274.3 inches
Overall outside width mirror to mirror: 92.3 inches
Wheelbase: 170 inches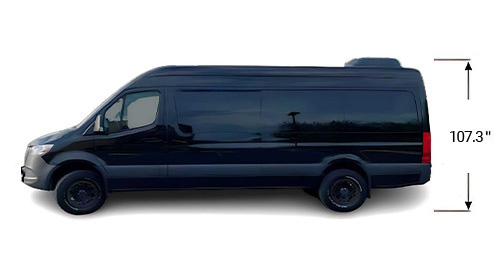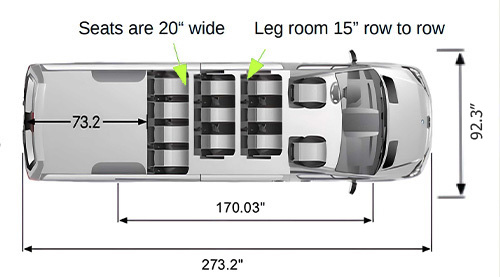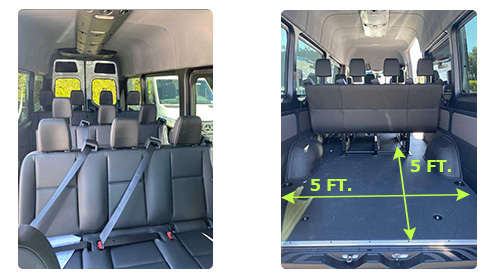 2023 (from 2007) Mercedes Benz Sprinter, 15 Passenger Van, High Roof with rear roof AC
170-inch wheelbase version:
Overall outside height: 107.3 inches street to rear air condition
Overall outside length bumper to bumper: 274.3 inches
Overall outside width mirror to mirror: 92.3 inches
Wheelbase: 170 inches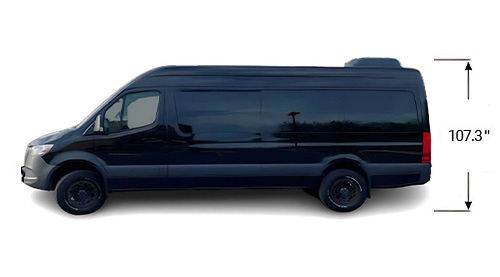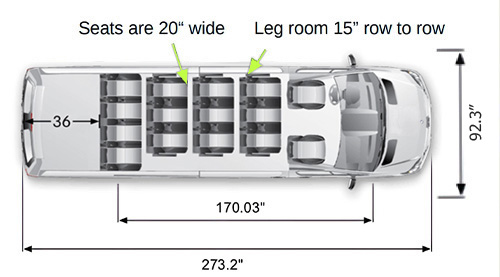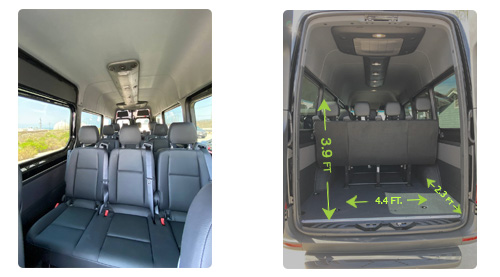 2023 (from 2007) Mercedes Benz 5 Seater Crew Cargo Sprinter Van, High Roof with rear roof AC
144-inch wheelbase version:
Overall outside height: 107.3 inches street to rear air condition
Overall outside length bumper to bumper: 233.5 inches
Overall outside width mirror to mirror: 92.3 inches
Wheelbase: 144 inches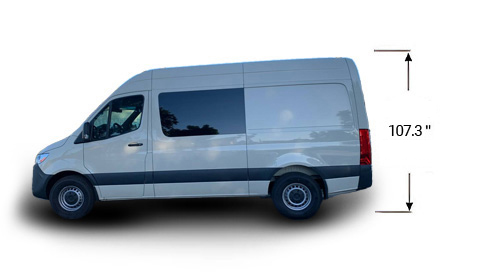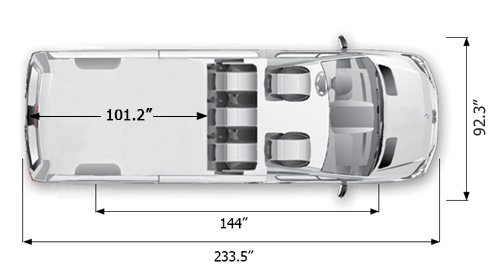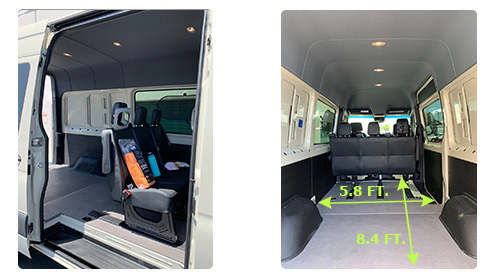 2023 (from 2007) Mercedes Benz Sprinter, 5 Seater Crew Cargo Van, High Roof with rear roof AC
170-inch wheelbase version:
Overall outside height: 107.3 inches street to rear air condition
Overall outside length bumper to bumper: 274.3 inches
Overall outside width mirror to mirror: 92.3 inches
Wheelbase: 170 inches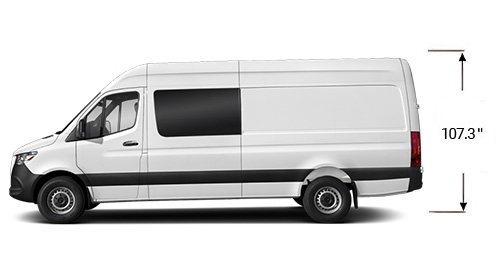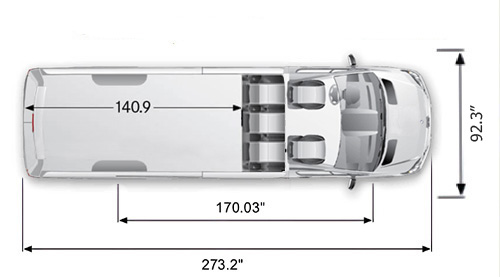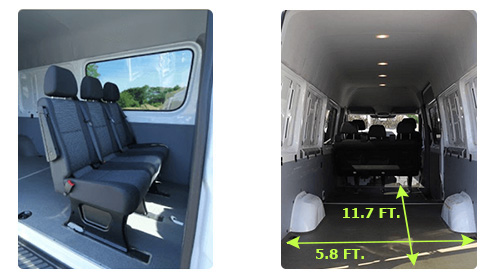 2023 (from 2007) Mercedes Benz Sprinter, Cargo Van, High Roof with rear roof AC
144-inch wheelbase version:
Overall outside height: 107.3 inches street to rear air condition
Overall outside length bumper to bumper: 274.3 inches
Overall outside width mirror to mirror: 92.3 inches
Wheelbase: 144 inches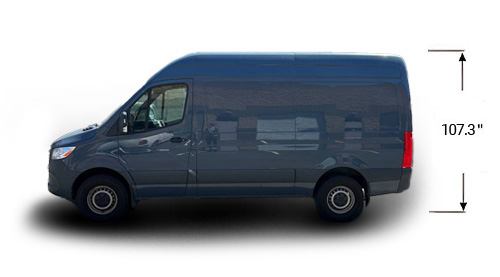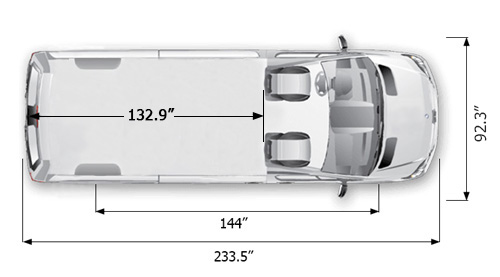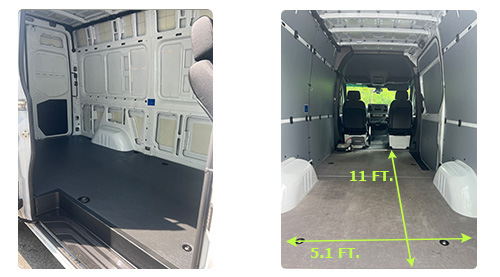 2023 (from 2007) Mercedes Benz Sprinter, Cargo Van, High Roof with rear roof AC
170-inch wheelbase version:
Overall outside height: 107.3 inches street to rear air condition
Overall outside length bumper to bumper: 274.3 inches
Overall outside width mirror to mirror: 92.3 inches
Wheelbase: 170 inches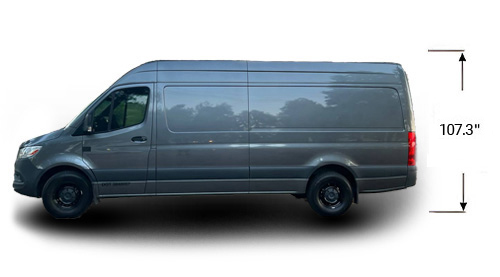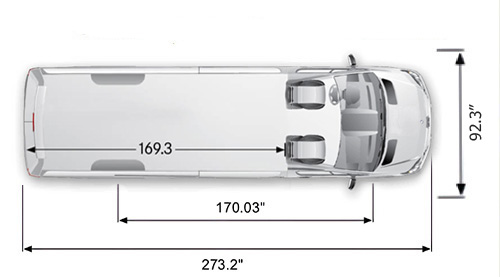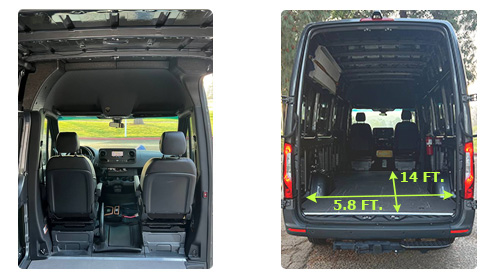 2023 (from 2007) Mercedes Benz Sprinter, Europe 9 Seater XL van, High Roof and roof AC
170-inch wheelbase version:
Overall outside height: 107.3 inches street to rear air condition
Overall outside length bumper to bumper: 274.3 inches
Overall outside width mirror to mirror: 92.3 inches
Wheelbase: 170 inches
Weight: 3.5 tons (7716 lb)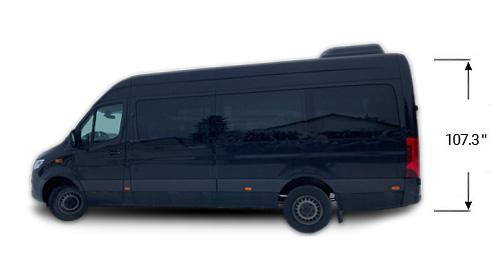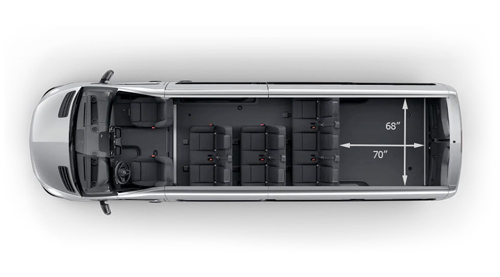 2023 (from 2007) Mercedes Benz Sprinter, Europe 6 Seater XL van, High Roof and roof AC
170-inch wheelbase version:
Overall outside height: 107.3 inches street to rear air condition
Overall outside length bumper to bumper: 274.3 inches
Overall outside width mirror to mirror: 92.3 inches
Wheelbase: 170 inches
Weight: 3.5 tons (7716 lb)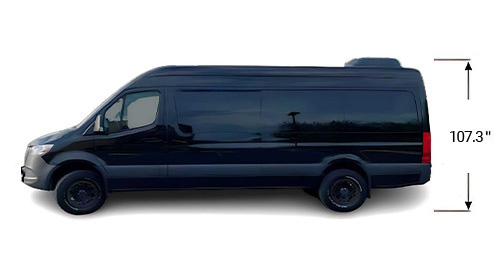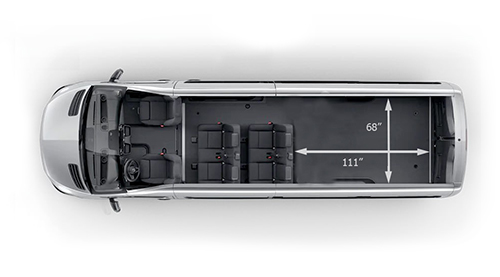 2023 (from 2015) Mercedes Benz Metris Van / V-Class
126-inch wheelbase version:
Overall outside height: 74.4 inches street to rear air condition
Overall outside length bumper to bumper: 202.4 inches
Overall outside width mirror to mirror: 88.3 inches
Wheelbase: 126 inches
Weight: 1.8 tons (4123 lb)