Brief description
This 15-seater Ford Transit 350 van comes with 15 reclining black leather seats, 2.5ft x 5 ft cargo luggage space allowing you to load over 15 large suitcases.
Despite its tall roof and long body, this large van drives just like a small minivan giving you all the freedom you need. Together with parking assists and backup cameras, you can forget about the anxiety caused by moving around in a huge van, especially in city trips and crowded urban areas.
The Transit is equipped with reclining individual seats to ensure comfort and legroom for every passenger like in a premium airliner seat. The low-noise cabin also features multiple power outlets, AUX in/out, and phone charger outlets that will prove especially helpful during a short trip or when you want to drive long distances in your next family road trip.
Thanks to the newest technology in this large Ford Transit van, it handles similar to a modern minivan. Stability control systems and Advanced Precision Electric power-assisted steering help with better traction and handling anytime you need some extra grip on the road.
---

Quick Specs
EcoBoost engine averaging 17.5 miles/gallon
Sophisticated interior tech and comfort features: large van seating
Big windows in the back: increased safety and maneuverability
Lower floor: more efficiency in loading and unloading
Increased passenger comfort: comfortable and stylish

Services available
Reasonably ­priced pickup/delivery to your home or business
Most locations offer rentals 7 days a week and 24 hours a day
One­way rentals available
Unlimited mileage packages available
Nationwide deliveries
There are lots of large storage spaces throughout this Ford Transit Van. So get one of the most highly anticipated new passenger vans on the market today.
These exciting multi-seat passenger van rentals are perfect for all types of traveling organizations including sports teams, Boy Scout troops and family get together, so don't waste another minute trying to pile into the cramped SUV! And Save money while you are at it.
---
Gallery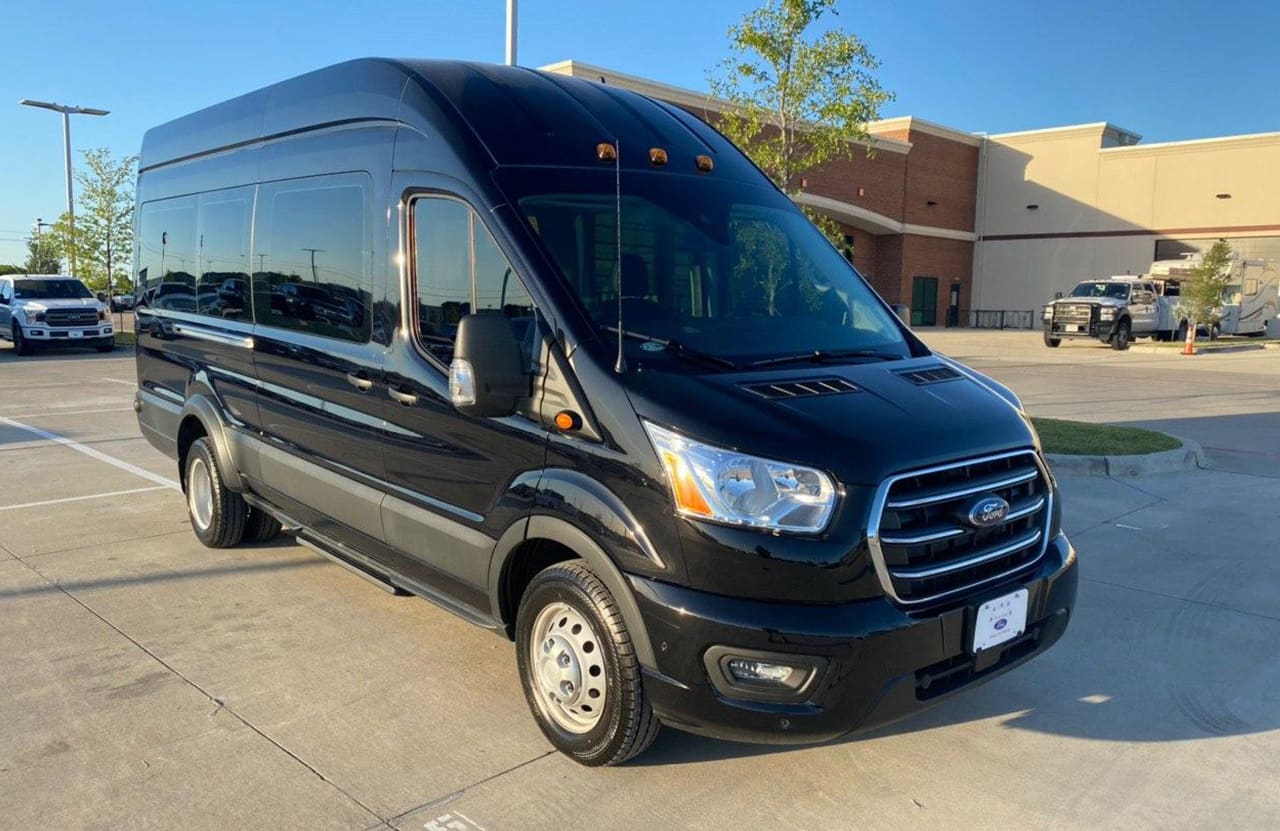 ---
Rental rates
Reasonably-priced pickup/delivery to your home or business
(Most locations offer rentals 7 days a week, 24 hours a day)
One-way rentals available
Unlimited mileage packages available
Nationwide deliveries
Call for long term rentals and flex leasing rates

FAQ
Q: What seats does the 2020 Ford Transit Passenger van come with?
A:Ford Transit Passenger vans come in a variety of different seats, from cloth bench seats to reclining black leather seats. This van comes in all vinyl leather.
Q: How much cargo can I fit in a long and tall Ford Transit 15-seater van?
A:The cargo space of a 15-seater Ford Transit van measures around 3 ft from the last bench to the back door. It's 5 ft in width and can be loaded up to 3 ft in height.
Q: What's the driving range with a full tank of fuel for a 15-seater Ford Transit van?
A:You can expect to be able to drive around 375 miles per tank with 15 people and luggage.
Q: What's the true MPG for a packed 15 seater Transit van?
A:Your MPG will depend on many factors, but on the average road trip with some city driving and mostly metro freeways, the Ford Transit van reaches around 18 MPG.
What's Next:
Click HERE to rent your Ford Transit van online today with our no-questions-asked cancellation policy.
You can start your trip anytime at one of our pick-up locations or inquiry to get your van delivered.
With a fully digitized renting process, you will e-sign your agreement online with no rental counter interaction required so you can arrive, and drive in no time.