Brief description
The Ford Transit Cargo Van is an easy-to-drive van with lots of cargo space that can be used for cross-country van rental, hauling, or moving large objects quickly and easily.
The van features almost 250 cubic feet of cargo space, which is about as much as 10 refrigerators put side-by-side. Despite its size, the car's turning radius is comparable with a small half-ton pickup truck, allowing you to street park this van anywhere to maximize usability and convenience during every trip.
Our Ford Transit Cargo Van comes as a 2-seater cargo van with a 148" wheelbase, medium-high roof, and medium-length cargo space, which is ideal for transporting pallets, furniture, and other objects of a relatively big size without having to rent a large box van.
The quiet interior, good stereo system, climate controls, and front AC will make driving a fun and memorable experience, even during long-distance trips.
Whether you're looking to rent a cargo van one-way or rent a van to drive out of state, Sprinter Rentals gives you access to a wide range of affordable cargo vans for rent to elevate your "van life".
---

Quick Specs
EcoBoost gas engine averaging 18+ miles/gallon
Sophisticated interior tech and comfort features: one of the most civilized large vans ever
Big windows in back: increased safety and maneuverability
Lower floor: more efficiency in loading and unloading
Increased passenger comfort: comfortable and stylish
Low interior noise
Easy to park

Services available
One-way rentals available
Reasonably-priced pickup/delivery to your home or business
Unlimited mileage packages available
Nationwide services
AC/Heated cabin space

Features
Exterior: Easy to drive, maneuver it into the tightest corners to board your people and tons of cargo.
Colors may vary: Desert Silver, Arctic White
Total seating: 2.
Right side sliding door
Wheelbase: 147.6"
Max. cargo height: 72.0"
Vehicle height 100.8"
Cargo space after after last passenger bench: 15"
Transmission: Automatic
Enginge: Gas
Moving loads of cargo and having a comfortable ride for the driver and passenger can be a challenge.
With just a few clicks you can rent a 2 Seater Cargo van with unlimited miles and have it delivered to your home or business.
Ford's strong gas engines makes hauling heavier loads easy and much cheaper than using a flatbed truck or trailer. The wide back doors allow loading several pallets, fridges standing up, washer and dryer, several motorcycles or even animals.
Towing a trailer might be a choice some of our vans offer, you can rent a van with a trailer hitch by submitting your inquiry here. We also rent monthly so you do that last mile delivery job you always been thinking of.
Some locations also offer trailer rentals, please submit your inquiry here.
Rent the better vehicle so save money overall.
---
Gallery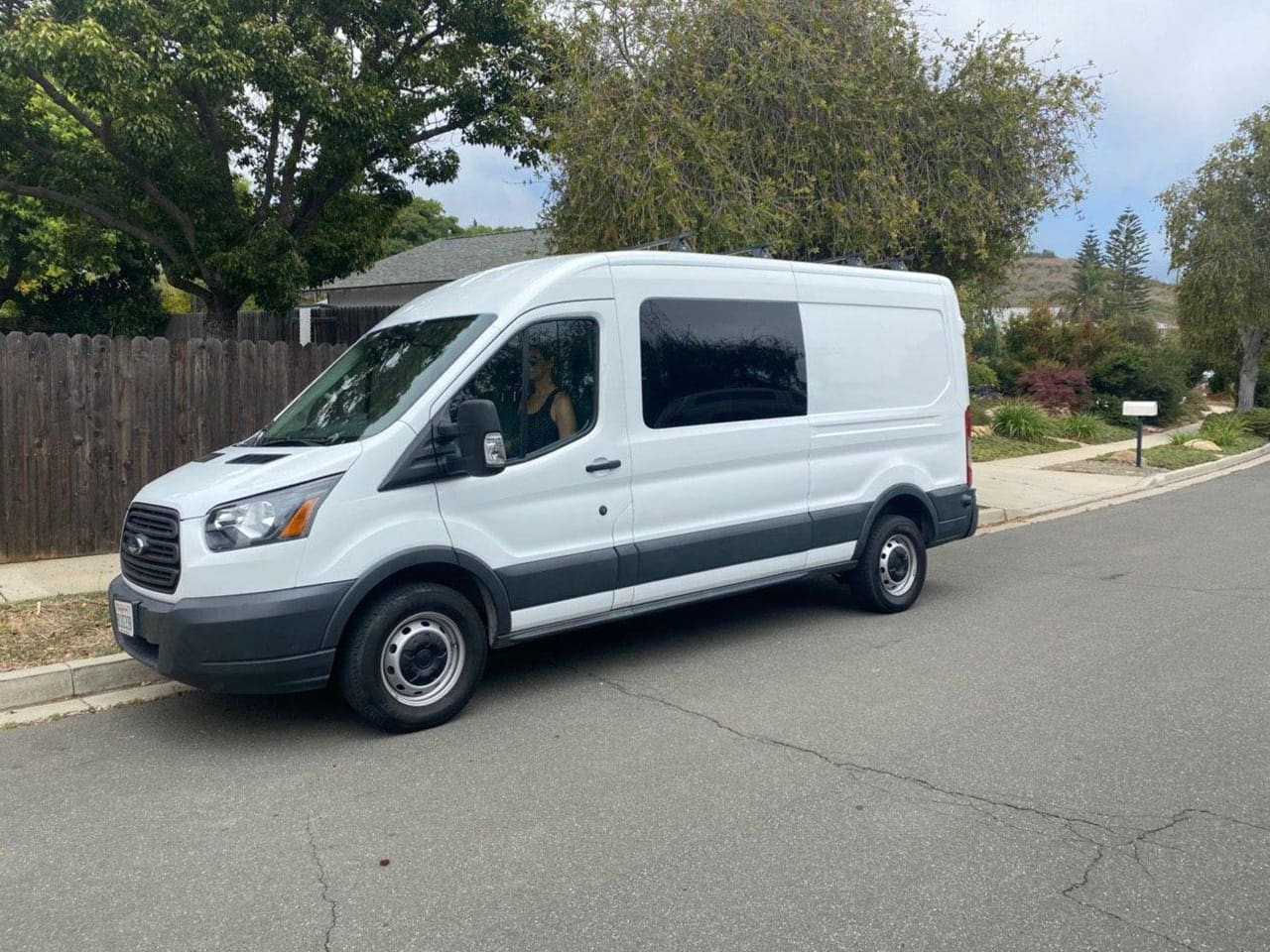 FAQ
Q: How many feet of cargo space does a medium long Transit have after the last bench?
A:From the seat to the back door you have 11 feet of cargo space.
Q: How many miles can I go with a tank of fuel in a Ford Transit Cargo van?
A:Going with a medium load you should get about 375 miles per tank.
Q: How many miles can I go with a tank of fuel in a Ford Transit Cargo van towing a trailer?
A:Towing a medium size trailer, with a medium size load in the van you should get about 300 miles per tank.
What's Next:
We have digitized the rental process and fully eliminated the rental counter interaction so you can be in and out in no time. You can conveniently make an online reservation here and e-sign your rental agreement a few days before your arrival.
Trips can start at any of our pick-up locations or request getting your van delivered.
Enjoy our hassle free - no questions asked full cancellation policy.