Posted on:
April 30th, 2016
---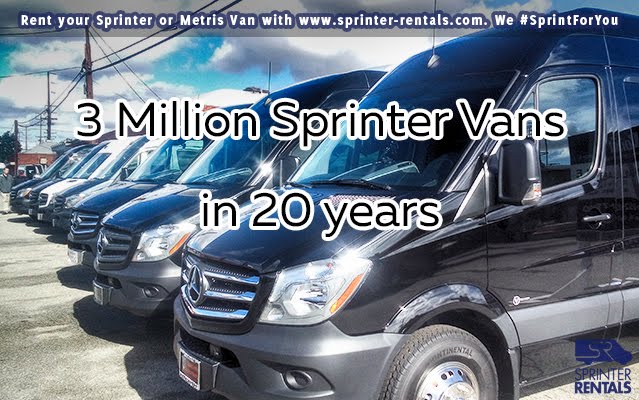 Mercedes-Benz Sprinter Vans hit 3 Million Sales In 20 Years
We often forget to grasp the value of time until we lose the chance to take advantage of it. For many, 20 years counts as an entire lifetime. In 2015, Mercedes-Benz and the Sprinter van celebrated no less than 20 years of continued progress and excellence. Available in more than 130 countries worldwide, the Mercedes-Benz Sprinter is a van created in 1995 that has gained an international reputation through its high standards, reliability and technological improvements.
As of last year, the Sprinter van hit another exciting milestone when 3 million units were sold worldwide. Although an amazing accomplishment, this didn't come as a surprise, with sales growing steadily across the board for the German car manufacturer. 2015 also saw an increase of 4% in Sprinter van sales , which were just 6,000 units shy of 200,000 that year. To celebrate these feats, the head of Mercedes-Benz Vans, Volker Mornhinweg, personally delivered the three millionth Sprinter to Bernard Kibler, the Managing Director of Hymer, a camper-van manufacturer. The anniversary vehicle will be turned into one of the premium HYMER ML-T camper vans.
At Sprinter Rentals, we stand by our van choice wholeheartedly. Before 1995, customers' options were limited, to say the least, until Mercedes-Benz created a market for very large vans. At the press conference where the three millionth Sprinter was officially sold, Mr. Mornhinweg further emphasized the manufacturer's growth plan to take the Sprinter all over the world. With 6 production plants worldwide, and sales expected to further increase in 2016, we are yet to see the full potential of this automobile. During the first few months of 2016, this van quickly became the market leader in numerous regions around the world , including Argentina, China, Germany and South Africa. Despite the fact that Western Europe still accounts for 55% of the total unit sales, there is growth potential worldwide to significantly impact these figures.
Because of its innovative approach to standard options, extensive customer support and consistency, the Mercedes Sprinter quickly evolved from a simple van choice to an everlasting idea– the perfect van. With options varying from 15-seaters (vans with the capacity of a minibus) to the cargo Sprinter or the 9 captain chairs of comfort class, the versatility of this model is overwhelming. This is the reason why Hymer, for instance, decided to enter the exclusive group of bodybuilders "VanPartner by Mercedes-Benz", having relied on the Mercedes-Benz Sprinter for its premium-segment camper vans for as long as the model has been in existence–20 years.
Read also: 20 Years of Mercedes-Benz Sprinter Vans: "Edition Sprinter"
The ML-T camper van from Hymer will benefit from the innovative crosswind stabilization Crosswind Assist. Mercedes-Benz Vans is the first manufacturer to introduce Crosswind Assist as a standard option in their vehicles, a guarantee that safety is, and always will be, a priority for Daimler.
Sprinter Rentals is proud to have one of the most successful commercial vehicles of all time as part of its van rentals fleet. When we say we look forward to Sprinting with you, we mean it.
---