Posted on:
October 14th, 2015
---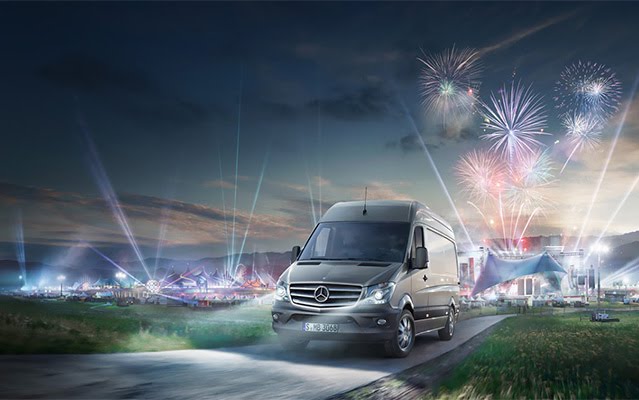 20 Years of Mercedes-Benz Sprinter Vans: "Edition Sprinter"
You only turn 20 once - celebrate!
The Mercedes manufacturer Daimler AG really wanted to mark this 20th anniversary of the Sprinter van and the spirit of this model, by committing all of its ingenuity, motivation, and effort to its realization. For them, the slogan "Party hard. Work Harder" is more than a life philosophy; it's an average day of work. As a result, the 2000 "Edition Sprinters" will soon be available for purchase in 19 European countries.
Featuring standard satellite navigation systems, air-conditioning, chrome grille between those stylish bi-xenon lights, 16 (or 17) inch light-alloy rims for all models and silver metallic paint, this automobile is an unforgettable sight on the road. In fact, this paintwork and some of this new styling is used for the first time in the Sprinter manufacturing history as a way to embody what Mercedes Sprinter vans has accomplished all these years. Still, since the one behind the wheel is doing all the driving, Daimler AG made sure to fit each and every one of the Edition Sprinters with comfortable driver's seats.
In addition, the German automotive company reaches its seventh generation of Sprinter vans with this release that brings together some of the best advancements this car has known. From the four-cylinder engines that redefined economy in terms of van mileage to the standard ESP breaking system and its more recent ADAPTIVE ESP variant, and also the six-speed or automatic transmission, you'll find that the Edition Sprinters have only the best.
The promotional release video also shows this work hard; party harder concept. We are introduced to all of the elements of a successful concert – people coming together, having fun, dancing to the rhythm of the best music, under a rain of confetti and fireworks. However, that's not all. While everything is standing still for a moment, the camera view moves through the crowd, up on the stage and then behind it – where, we all know, an Edition Sprinter van awaits.
Simple, yet effective, the manufacturer delivers the message that the new Edition Sprinter vans are the way to travel, and we stand by it. When it comes to van rentals, Sprinter rentals are the way to go. These cars can handle the pressure while everyone else unwinds, because they are engineered to provide the best van experience, whether it's a 9-, 12- or 15-seater passenger model or the cargo/crew-cargo version. The engines under the hood of Sprinter Rentals vans are remarkable pieces of automotive craftsmanship that combine efficiency, elegance, and utility under the same name.
If you want to join the Sprinter party, give us a call to discuss your van rental needs – we'll do the hard work, so you can party harder!
---