Posted on:
September 9th, 2015
---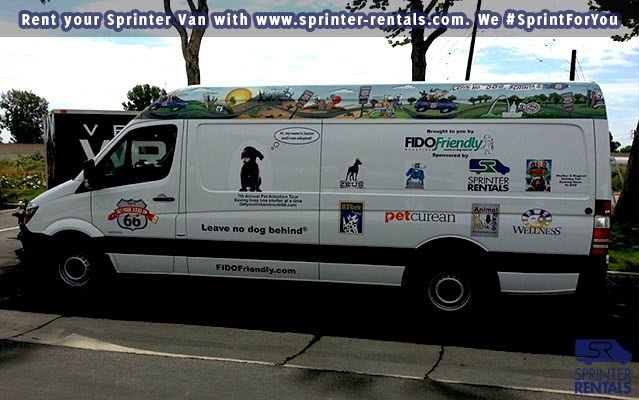 Sprinter Rentals Sponsors the 7th Annual "Get Your Licks on Route 66" Pet Adoption Tour
September means Fido Friendly Magazine is preparing for their 7th annual pet adoption tour justly titled " Get Your Licks on Route 66". In an effort to increase awareness about shelter animals, as well as to consistently support adoption events, Fido Friendly contributed to the placement of over 3,000 animals in comfortable homes with loving caretakers in the past 6 years. After all, every shelter animal, big or small, furry or rugged, hides a cuddly pet ready to become a lifelong friend to someone.
We, at Sprinter Rentals, decided to take our services to the next level and become the official vehicle sponsors for the "Get Your Licks on Route 66" campaign. To start with, we have designated pet-friendly vehicles from our fleet of vans, so that animal lovers can enjoy touring all over the U.S. (and abroad) with their furry friends, while still keeping pet-free options for those of us with allergies to pet dander or fur. Sprinter Rentals believes in offering services that can accommodate all needs, tastes and families, regardless of how many choices they include!
Our pet-friendly fleet of Mercedes Sprinter vans is warming up its engines as we speak in Riverside, California at the Riverside Animal Shelter on the 11th of September. Then, on the 12th of September, you may get acquainted with the cast from the timeless daytime soap The Young & Restless at the starting point for the full annual tour in the city of angels, Los Angeles. Fido Magazine's official spokesperson Brandon McMillan, host of the CBS Lucky Dog series will also be there so, if you can, don't miss a chance to share in the amazing energy!
We fully recognize the importance of the decision to become a pet owner. While it is true that you are responsible for your companion, animals have a lot of love and loyalty to offer to any of the people who adopt them. They don't ask much in return, and you'll find that most of them, particularly dogs, become very attached to their new parents.
The "Get Your Licks on Route 66" annual adoption tour by Fido Magazine may be passing through your city soon! Now it is your chance to join the pack on the road. All you have to do is take some of your friends, bipeds and quadrupeds, choose the Sprinter Van that best suits you from our fleet – the 12 or 15 seater, cargo or crew cargo version – and pounce on the cross-country adventure. And let's not forget that 9-person Business Class Mercedes Sprinter van rental, especially designed for fancy or corporate paws.
---