Posted on:
August 5th, 2015
---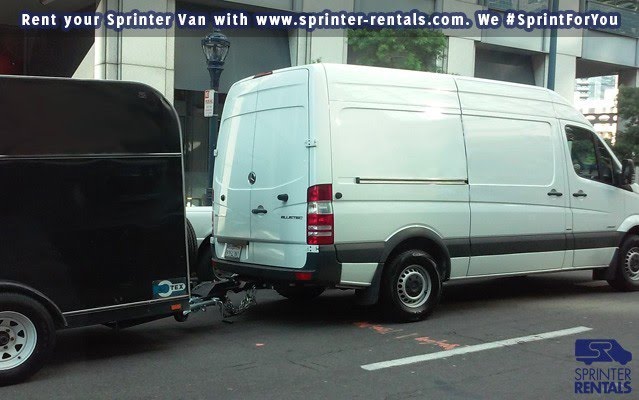 Sprinter Rentals allows Towing with Sprinter Vans
Moving from one location to another can be expensive, particularly if you decide to hire a company that provides such a service. Things can get even pricier when your goods exceed the capacity of the moving company's vehicle, since it would mean another truck, as well as a driver for it. However, Sprinter Rentals has come up with a unique solution for those of you that have moving on their agenda for the near future - towing with a rental van!
Besides the great fuel economy, the Sprinter Cargo Van offers an incredible capacity at 14 feet of cargo space in length and 9 feet 10'' in height. Overall, you'll be able to fit cargo worth 494 cubic feet in this Mercedes Sprinter. Furthermore, we have recently added the possibility to opt for a towing hitch, effectively transforming your van into two moving vehicles if you desired. Besides the large capacity of the cargo van itself, you can have a trailer behind you, making sure that nothing is left behind. Towing with a rental van could not be easier, and it saves you a lot of cash when compared to a moving company.
In case you also need some friends to help you out with the unloading, the Crew Cargo Sprinter van can accommodate up to 5 people besides the driver with only 4 less feet of cargo space.
From our fleet of vehicles, both the cargo and the crew cargo vans come with towing capacity, meaning that you'll be able to bring along another trailer that weighs up to 5,000 lbs. For those of you that are moving all the time, or attending various competitions where a lot of equipment has to be carried everywhere in case something breaks down, towing with a rental van is one of your better options.
In addition, the amazing thing about our vans with towing capacity is that you can also transport a car. Sprinter Rentals allows up to 5,000 lbs. in total towing weight. So you could even tow an SUV weighing from 3,500 to 4000 lbs, making it possible to carry another 1,000 lbs. of cargo inside of that if needed. This type of towing with rental vans provides you with an incredible flexibility, since you can fit almost anything in this combination. Even a motocross dirt bike and the necessary gear that goes with it would more than fit into the cargo van with space left over.
Last but not least, towing with a rental van makes for another interesting possibility – taking a caravan with you. Nothing improves a road trip like taking more people and items with you, adding extra utility and fun, as well as comfort to what can end up being the journey of a lifetime across the United States.
At the end of the day, what doesn't fit in the Sprinter cargo space goes in the trailer. You're good to go – it's as easy as that. Don't forget – there is no need to drive the van and trailer round trip, since we also have one-way rental services! With Sprinter Rentals, all of your worries are taken care of. Call us today about your cargo van rental needs, and we'll turn your moving experience from a strain to a dream trip!
---