Posted on:
December 10th, 2015
---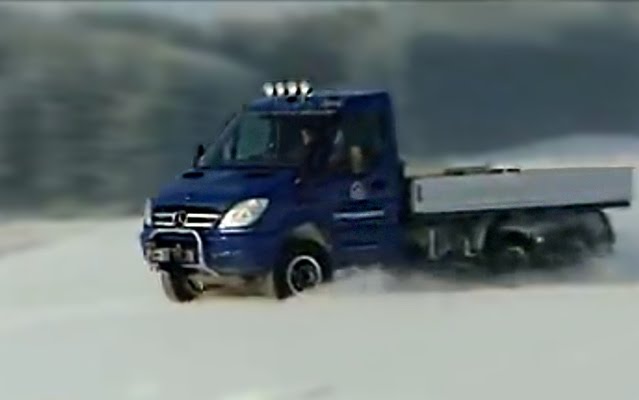 The Powerful Oberaigner Sprinter Van 6x6
Mercedes Sprinter vans have always been considered the best of the current van market. From generous storage space in the Cargo or Crew Cargo versions to mini-busses that can seat up to 15 people and even the luxury of traveling in captain chairs, the Sprinter has proven itself to be an overall amazing van. If this wasn't enough, the top-end technology of Mercedes Benz factories makes these vehicles easy to maneuver, as well as cheap to run. The reputation of the Sprinter precedes it, and civilians and authorities all over the world have rented the Sprinter Van, whether for medical purposes or security reasons.
Nonetheless, something was missing. Many remote regions required Sprinter vans for their practicability, but rough terrain or lack of immense load-bearing capacities were an impediment. Consequently, people living in these remote areas had to use less practical or less reliable options. That is, before the powerful Oberaigner Sprinter Van 6x6 version came to be. Whether we're talking about simple transportation of goods or more demanding tasks such as rescue operations, the Sprinter Van 6x6 has what it takes to take the van experience to the next level. Policemen, firefighters, medics, or other local authorities now have at their disposal a reliable vehicle that can cope with the lack of infrastructure, rough terrain, and even river crossings in the 6x6 version of the Sprinter Van.
Let's take a look at what makes this vehicle so versatile and always ready to fulfill your off-road needs. Probably the most obvious advantage is that you're driving a van with 6 wheels, which helps it handle incredible loads. In the 7-ton van segment, the Sprinter 6x6 van is the only choice of vehicle that allows you to carry 4 tons of goods anywhere you want.
Underneath its chassis, the back four wheels benefit from an innovative double pendulum suspension. This means that you'll see the wheels behind slightly tip according to the terrain in order to prevent frame distortion and maintain the frame's integrity. In addition, the differential drive is at its best in the Sprinter 6x6, as it can have up to 5 locks that work together to provide you with maximum traction regardless of where you're driving.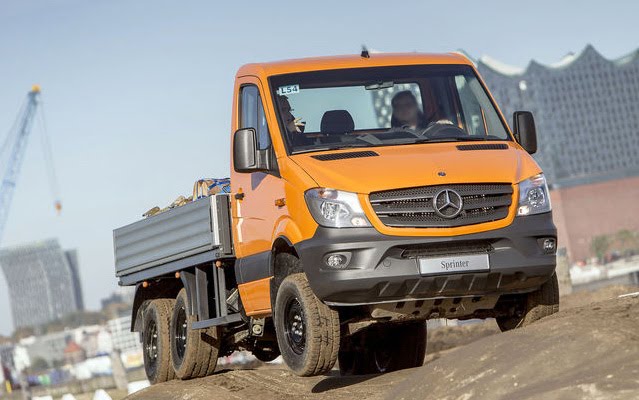 The van's stability is also improved due to a lowered center of gravity and a widened track between the wheels – you can now drive almost any angle without having to worry about tipping over the van due to the extra mass of the cargo.
Last, but not least, the Sprinter 6x6 van has an increased fording depth, which means that you can sink it in up to 2 feet (60 cm) of running water and not worry about the engine. If you need more serious diving, some versions are also equipped with a snorkel.
---