Get to San Francisco's Super Bowl 50 with Sprinter Rentals
Posted on:
November 27th, 2015
---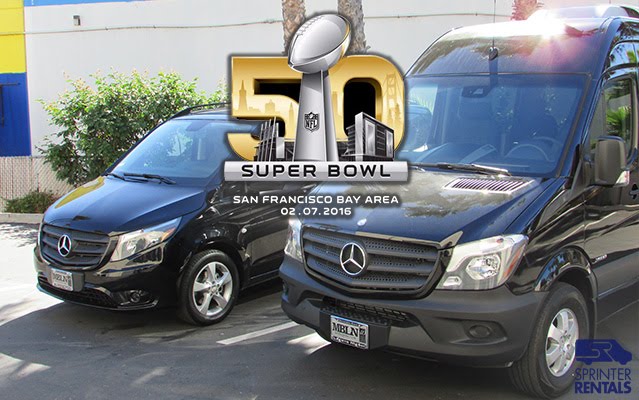 Super Bowl officials have obviously decided to change it up this year by switching to "50" instead of the traditional "L" for this edition of the Super Bowl. In the summer of 2014, this decision was made for aesthetic premises – how does one fit an "L" on the Vince Lombardi trophy to make it look good? It turns out you can't, and employing Arabic numerals was a classy decision on the part of the National Football League. After all, we are going to attend a Super Bowl in California, the Golden State , for the first time since 1985.
Sprinter Rentals has made some changes from last year's Super Bowl too, and they are entirely to your advantage. We've noticed that people sometimes need a smaller van, one that doesn't use as much turning or parking space as the 12 or the 15-seater Sprinters. Consequently, we made a great addition to our fleet of versatile vans and now bring you the 8 passenger Metris Minivan. The Metris is a mid-sized van that's slightly smaller than the Sprinter, but that keeps all of the Mercedes standards throughout. With this option, you can travel to San Francisco for the Super Bowl 50 with a ridiculously small budget. Whether you're looking to go with your friends, your family or both, these Mercedes vans are renowned for how easy they are to drive.
The recent addition of the Metris did not take away anything from the amazing possibilities of our original fleet of vans. You can still take your board of executives to this event in the 9-seater luxury version with captain chairs. Whether it's all the way there or throughout the city, this van is the perfect way to ensure VIP comfort on the go. Similarly, the cargo and the crew cargo Sprinters are also here, just in case you might want to pack some extra gear on your trip to San Fran or if you've decided on moving to the Bay Area. The Seahawks seem to be one of the fan's favorites this year, but who knows what's going to happen once the whistle blows?
All we know for sure is that teams, crews, and fans are invaluable parts of the Super Bowl, and Sprinter Rentals is here to make sure that everything and everyone gets to the Bay Area on time , ready to cheer with some extra cash left over from those amazing rental deals! Oh, and you don't even need to worry about one-way rentals, we've got your covered.
Call us today to discuss which Mercedes Sprinter you will be taking to Super Bowl 50!
---