Posted on:
October 29th, 2015
---
Sprinter Rentals is taking the ARCH Motorcycle across the U.S.
More often than not, traveling across the United States requires more than two wheels. As seasoned sponsors of dirt bike racers, Sprinter Rentals makes it a point to have enough Mercedes Sprinters for van rentals that can be used to carry motorcycles - to the destination of your choice. So a successful partnership was formed when Sprinter Rentals shook hands with the Arch Motorcycle Company, co-owned by 2-wheel wizard Gard Hollinger and movie-star Keanu Reeves, also a bike fanatic.
Both Sprinter Rentals and Arch Motorcycle Company understand the passion of gripping the clutch of a powerful engine, so with a lasting friendship between the two companies, they decided that the best way to take the KRGT-1, Arch's very own premium motorcycle model, across the U.S.A. is in a Mercedes Sprinter van provided by us. Bringing together Gard's life-long, self-taught understanding of design and engineering, as well as the incredibly vast riding experience of Keanu, the KRGT-1 model seems to turn the eyes of every known motorcycle enthusiast.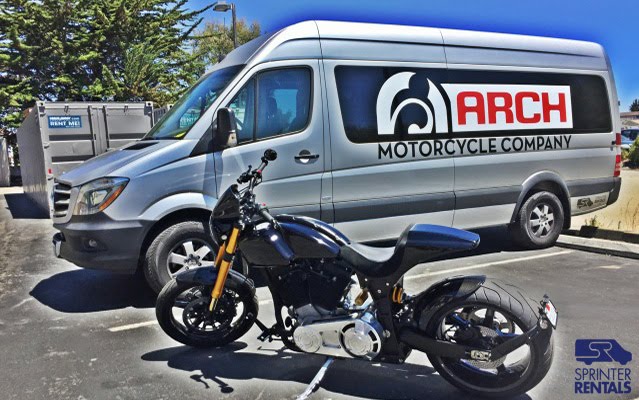 Still, people want more than just an advertisement. Flashy pictures, incredible stats and perfect presentations can never do justice to the real thing, so Arch is traveling with the bike all over America. Riding in the saddle of a motorcycle engine is the perfect way of experiencing freedom, but taking it to showrooms is all about safety, so what started as a discussion with Sprinter Rentals about only doing a one way van rental soon turned into a serious commitment on our side to provide the safest and most convenient unlimited mileage rental offer.
That is one of the ways Sprinter Rentals stands out from all the rest ; we offer our customers superior transportation options in the form of the Mercedes Sprinter cargo van model and the crew-cargo option. While the first is superbly suited for bigger space requirements, the second can also hold your gear and fit up to 5 other crew members besides the driver. Both choices are definitely the best way to make sure you and your possessions (including your motorcycles) never get separated. Moreover, traveling with all of your gear in one transport ensures there are no delays, because everything, and your team, is where you want them - together in one place.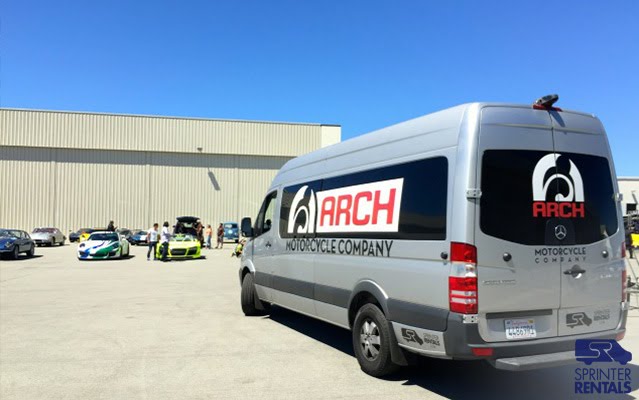 Look for the ARCH Motorcycle Company/Sprinter Rentals Van coming to a city near you!
An ARCH crew will be hitting the road later this month on a cross country trek to give motorcycle enthusiasts the opportunity to experience their exotic, genre-bending power cruiser in person.
Sprinter Rentals is proud to give Keanu and Gard's ARCH Motorcycle Company the best in terms of van rental unlimited mileage packages, but we are not exclusive to long-term contracts: you too can give us a ring just for van rental one way, or round trip, as well!
---