Posted on:
April 3rd, 2014
---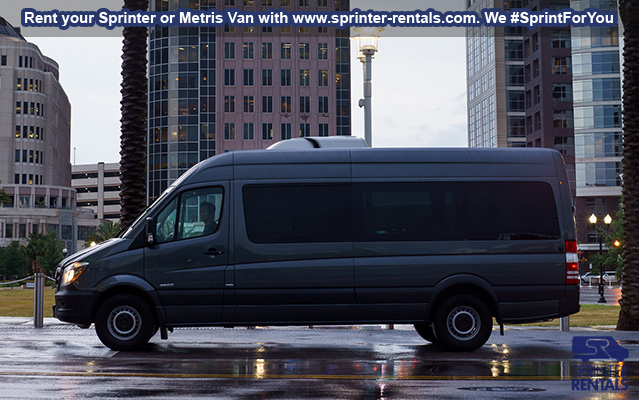 The Van to Las Vegas Story
"Our Road Trip-Vegas is almost on the map."
"Nice one scoring the Sprinter Van. It's a better idea than the $140.00 per person for airfare. Searching for a comfortable van ride is the best idea you've had in a while."
"Yep, now we'll have enough cash to have fun." Mercedes Sprinter from the Front
Fly down the road instead of in the air. Taking a Sprinter Van from San Diego eliminates all of the airport hassles--like trying to find a parking space, trying to fit all of your personal and electronic stuff into your carry-on and waiting in long lines while your privacy is invaded. Then when you get on the plane, you may get stuck sitting next to Mr. Old Fart telling you all of his WWII stories. Instead, the van offers room for 10-15 friends and you can move around, stretch your legs, and talk/listen to what you want, when you want, and you can get your Starbucks fix when you see fit. Plus there is plenty of room in the back for whatever--your guitar, extra luggage or your own "special blends" of refreshment.
These rental vans are the best way to drive to Las Vegas. The Sprinter Vans handle like a car, don't suck gas and are extremely comfortable. The seats easily support big or tall guys. The 10-seat van has extra legroom and taller than normal roofs. Most of the vans have DVD players, so you can watch "The Hangover" and take notes.
Being with all the guys offers other advantages. You can discuss your wingman plan before you get there and then laugh about who crashed and burned on the way back. You also have a chance to get "the story" straight with everyone so no unwanted details slip out to the bride because what happens in Vegas stays in Vegas--and what happens in the van, of course, stays in the van. And DD duties are not all put on one guy.
With unlimited mileage, economic, clean diesel fuel, and only $125/day, you can save your dollars for that hot club or poker game.
Try these Sprinter Vans - Call 619-262-1026 for your van to Vegas trip - you'll be stoked.
---