Posted on:
April 2nd, 2014
---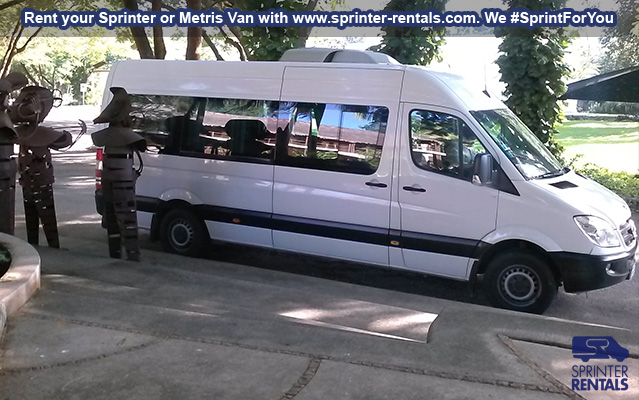 So Cal Rental Van for Mexico trip
Our church trip was the most comfortable ever. For many years we've been coming to San Diego to drive down into Mexico for our mission trips there. Being in Mexico is always an adventure, so we didn't want our van rental to be. That is why we liked Sprinter Rentals. They didn't say things like this van or similar when ordering our van. They had the exact Sprinter Van we reserved waiting for us with Mexico Insurance.
We had the great pleasure of working with Nicole to get one of these Sprinter Vans; let me tell you the roomy van made our commute from So Cal locations to Baja a neat experience. The roof rack was an extra help and all of our luggage was tucked away nice and neat in the large storage place behind the seats. The rental was inexpensive and the Sprinter's great fuel economy made the small amount of money we spent on gas cheap compared with what gas costs with most Ford Vans. We're glad we rented from Sprinter Rentals this year for the first time. We will be back. Danny T.
Thank you Danny, we are glad we could help. Yes, we have vans large enough to accommodate up to 15 people. Also, our fuel-efficient Sprinters can seat up to 12 people, and offer lots of additional space. The leg room in our Dodge Sprinter Van is better than any other passenger van...and all of our vans are equipped with air conditioning, CD players and some have DVD players. Vans with towing ability are available, along with trailers, ramps and roof racks to meet all of your travel/mission trip needs. We have the comfortable van you need waiting for your next Church trip or mission to Mexico. For helpful tips about driving and other mission trip advice, visit Go Mission to Mexico.
---