Posted on:
April 1st, 2014
---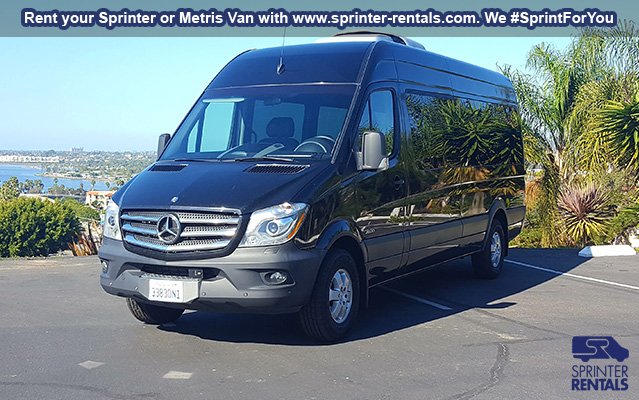 Mercedes-Benz with Van Practicality
The Mercedes Sprinter! Where can you get the quality of a Mercedes-Benz with the practicality of a Van? The answer is Sprinter Rentals.
The Mercedes-Benz Sprinter has been the small van or mini-bus European market leader for many years. But it goes by different brand names here in the United States - like Dodge and Freightliner. It's key to know that all of the vehicles are built by Mercedes, and the brands are pretty much the same but with different logos and some minor features. Why does this matter? It matters because Mercedes-Benz is the leader in its field. And that is what you get when you rent a Dodge Sprinter from us--you get better than the rest.
Mercedes Sprinter-Rentals ahead of the times, come aboard!
Let's start with its stylish looks and comfort. Comfort in a van you say? No way. Yes, way. You don't want an ugly van for your group and family. The Dodge Sprinter picks up the classy design of Mercedes-Benz. And you want to ride and drive in comfort--dare we say, even luxury. First, lets talk about the comfort of the passengers. The Sprinter van rental carries 10 passengers in comfy seats with extra leg and headroom. I am 5' 11", and could stand up all of the way.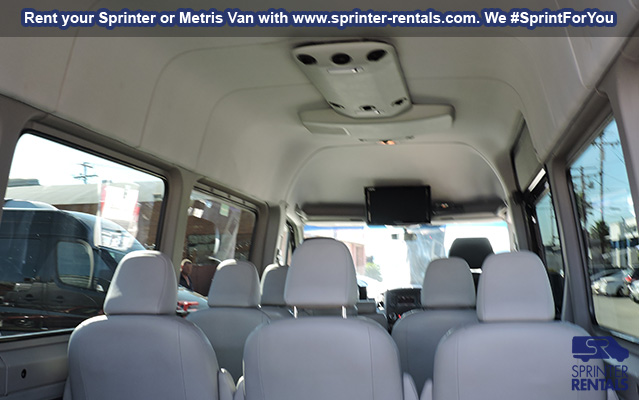 Mercedes Sprinter inside, a comfortable van ride
Load the large 6-foot cargo area behind the seats through the super wide rear doors that open all the way to the sides of the van. Large electronic windows and wide-angle mirrors make the journey more enjoyable for all. Even on a familiar road, you might see something new. The gas-saving diesel engine is very quiet, so you don't have to shout to each other. The vans have stereos and some have CD and DVD players. For the driver (you might have to take your turn) there are many perks. The new driver seat offers body and back support. The cockpit gives you a great overview of the road and of the controls with easy to read speedometer and RPM dials.
Comfortable bench seating with head rests
Now we all want to get there in one piece, so lets talk about safety. These vans have ADAPTIVE ESP®. ESP doesn't stand for extra sensory perception in the human sense. It stands for electronic stability program, or extra sensory perception in the mechanical sense. Basically it is a vehicle stability system that keeps your van where it should be on windy roads or with heavy braking. What is amazing is that it has a mass and balance determination, so it understands where you have loaded your cargo for emergency stopping. It also prevents unwanted rolling backwards during hill starts. Protecting passengers from a possible accident is better in the Sprinter Van than any other 10-passenger van or even the Ford 15-passenger Vans. Each seat has three-point seat belts, adjustable head restraints and belt force limiters. The driver's front airbag is standard. At night the H7 halogen headlights make your trip safer.
---