Posted on:
April 1st, 2014
---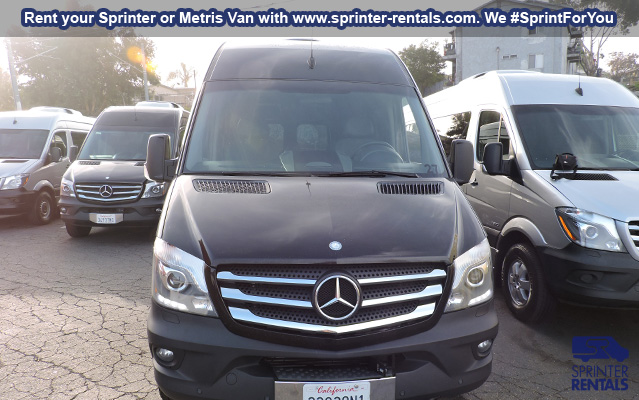 Mercedes Sprinter
What is a Mercedes-Benz Sprinter Van? Is there a difference to the Dodge Sprinter? Versatile, strong, safe and comfortable vans with high-tech diesel engines that are powerful, clean and fuel efficient. The Mercedes-Benz Sprinter has been the market leader in Europe in the small van class for many years in a row and now is becoming more and more popular in the US and most recently in the South Western United States eg California, Arizona, Nevada. The Sprinter has since its launch 1995 become an important part in the success of the many small businesses and transport companies.
The Sprinters coming to America: A success story starting in 2003 and becoming a success in 2005 with over 167 000 units from the plants in Düsseldorf and Buenos Aires (Argentina) produced and sold in Latin America and the United States (while setting a new production record). In the NAFTA region (incl. USA, Mexico, Canada) in 2005 sales were up to 28 100 Sprinter Vans under the brands Mercedes-Benz, Dodge and Freightliner , exceeding sales for the year 2004 (18 900) by 49%. Daimler / Dodge announced, to use its plant in Charleston (South Carolina) for the re-assembly of the next generation Dodge Sprinter (models 2007 and newer in the US), for to supplement the increasing demand for this vehicle in North American markets. Important to know is that all vehicles are built by Mercedes, even if they are sold as a Dodge, both labeled brands are pretty much the same vehicle besides logos and some minor features.
Designs:
A new era of Van and Cargo van designs encapsulating motion (speed), yet proper design, a design that combines form and function perfectly - the new Sprinter heralds a new era by its looks. The emotionally and dynamically-designed Sprinter picks up the design language of Mercedes-Benz brand and combines it with the material properties of a transporter. Stylish headlights and air intakes are designed. The dynamic side-footed shaped tail lamps and rear collected at the bottom are also typical features of the Mercedes-Benz. The 2007 model Sprinter now offering various wheelbases, lengths, heights, weights, structure and resulting engine and transmission versions. The Sprinter comes in different wheelbase 127 and 170 inches, the shorter van is 243 and the long one is 289 inches long, you have the choice between the standard roof or the high roof. The inside load volume from the small van is 247 cubic feet (short/low) and the long high one 600 cubic foot. What is also nice is the total maximum load length (for pipes or long wood). And the super wide rear doors that open all the way to the sides of the van.
Comfort:
Enjoy this luxurious Extensive standard equipment electrically operated windows and central locking, automatic climate control, automatic transmission, wide-angle mirrors, ADAPTIVE ESP ®. In addition, the Sprinter impresses with high-quality materials in a careful processing. The new seats with a stepless height adjustment on the driver's side offer a body-shape and good support. Driving is about the cockpit, these vans have a great overview of the center console. Here you will find three paper sheet slots bags, one cup holder . The Sprinter driver faces easily-readable dials for speedometer and RPM meter. Mercedes or Dodge vans offers a never been seen before overview over the road and all the instruments. As you drive down a familiar road you will discover new things in the corner of your eye making a normal road trip a sightseeing trip right from home. At night the standard power increased H7 halogen headlights make your trip saver.
Engine:
A milestone in clean diesel technologies is already on Americas roads in the new Sprinter vans today. Dodge now offers four HP output ratings all base on the OM 646 CDI turbo-diesel engine with four cylinders and 2.148 cc, a 88 hp up to 150 hp. Enormous torque at low engine rpm is one of the advantages that comes in par with its high efficiency. Coming to the US soon is the high output engine OM 642, a V6-cylinder with 3.0 liters, 184 hp and maximum torque of 400 Nm. The V6 with an aluminum crankcase, a balancer shaft and two overhead camshafts per cylinder bank for greater engine performance and longevity. All-emission diesel engines are Euro 4 or 4/III EU equipped with a particulate filter by far exceeding todays US and very strict California Diesel Emission levels. We actually have had Sprinters pass CA-Diesel-Smog Checks with over 350 000 miles.
Safety:
Innovative chassis, offering active safety features like ADAPTIVE ESP ® a vehicle stability system helping to keep your vehicle on the road on windy roads and heavy braking. All 2007 and newer models have the electronic stability program ESP, the latest generation as standard, the ADAPTIVE ESP ®. A newer and smarter version of the old system, it now has a mass and balance determination, so it understands where you have loaded your Sprinter vans cargo for emergency stopping. It also amazingly prevents unwanted rolling backwards during hill starts when letting of the brake to press the accelerator. Passive safety (which is protecting during a possible accident) of the Sprinter is much higher than any other 10 passenger or the Ford 15 passenger vans with each seat has a three-point seatbelts and adjustable head restraints and belt force limiters. The driver's front airbag is standard, optional are front passenger front airbag and thorax bags. A high level of passive safety is one of the fundamental values of the Mercedes-Benz the Sprinter once in an accident become your out shell to reduce possible injuries to bring you home safely.
Quality, Craftsmanship and Origin:
Daimler has invested 550 million euros in the expansion in Duesseldorf, where Sprinter vans are built. A total of 300 million euros has been invested in the expansion of the work Ludwigsfelde, where pick up and chassis are being produced. There, alongside a new body shop, a new painting facility is being created. The staff is covered largely by corporate employees. In both plants great workmanship and long-term quality is a common goal. Many elements of frame and body are welded by laser or computer-glued. The proportion of galvanized Sprinter body parts has increased significantly compared with the previous model. Careful sealing of the seams in vulnerable areas and an under-body coating to ensure long life and value retention. In the Ludwigsfelde plant a new method for corrosion protection is in use: It listed RoDip procedures, even upsetting rotation, rotate the body in the shell of each pre cataphoretic including dip coating (KTL) completely around the lateral axis. This guarantees a flawless coating of all sheet metal parts and cavities. So if you wonder what that has to do with your Sprinter? Well, it makes it last longer and look better. Keeping the need of Sprinter Parts for repairs to a minimum. So you might just need oil and a filter for the occasional oil-change.
Happy Driving to you all.
---