Posted on:
February 17th, 2015
---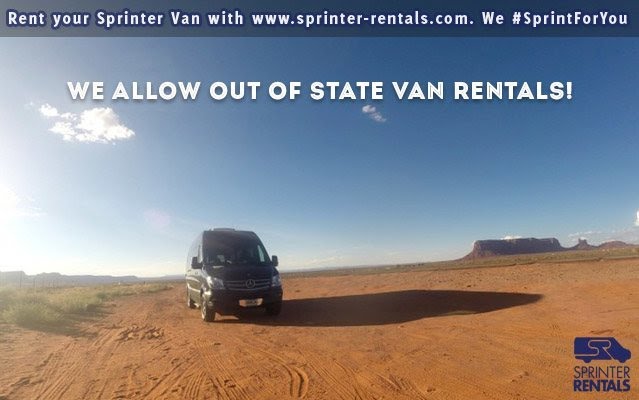 Out of state van rentals are allowed with Sprinter Rentals
What can be better than going around all of the U.S.A. in a Mercedes Sprinter Passenger Van?
An LCD TV screen, DVD player, audio ports, and the comfort and economic technology of German automotive engineering can go with you during your experiences visiting this great American land.
Sprinter Rentals provides you with the opportunity of out-of-state van rentals. Yes, that's right! We've noticed that a lot of our customers are interested in visiting other places outside of their own region, so we now allow you to travel to any state and even to Canada and Mexico. Make up your own travel agenda with a personalized route. Nothing compares to the sensation of freedom when going on a trip with your own Mercedes Van when you can make all the detours your heart desires.
The 12-seater Mercedes Sprinter van rental provides you with plenty of baggage space for any trip, whereas the 15-seater is more suitable for events where the goal is to transport larger groups in comfort and style to an event. For a premium, long distance, or out-of-state van rental experience you can opt for the 9-seater business class Sprinter version. Leather captain chairs with comfortable arm rests, plenty of leg room, and high-tech suspensions will make you feel like you are floating on a cloud.
By the time you reach your destination, you might not want to give up driving!
Maybe you need a cargo van rental one-way out-of-state? No problem. Our cargo vans give you the possibility to easily transport goods, personal belongings, or even motocross bikes with the out-of-state cargo van rental alternative. Included in our fleet of out-of-state van rental options is the 2-seater and the 6-seater cargo van versions. The first is more suitable for a full load; the second can also accommodate a crew along with large amounts of equipment.
Sprinter Rentals is known among its customers for the amenities and options we provide, from mileage and GPS devices for your vans to negotiable rates for longer periods of time. We go out of our way to make sure you have an awesome out-of-state van rental experience every single time you need us.
Contact us today and give us a chance to show you why other customers like us so much!
---