Posted on:
November 7th, 2014
---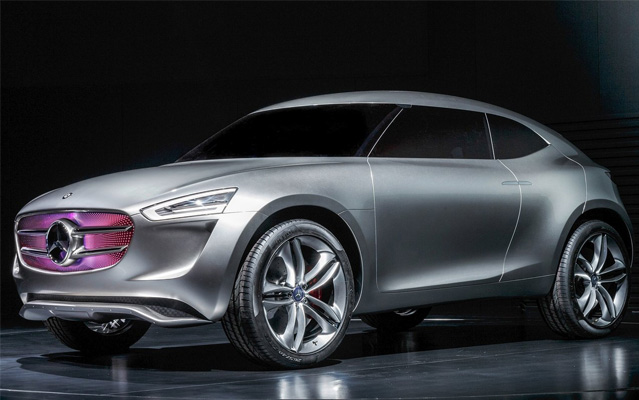 Mercedes Benz Vision G-code – a solar and hydrogen powered crossover from the future
Once again, Mercedes shows the future with Vision G-Code
Hydrogen fuel, solar cells in the body and futuristic design – this is the newest concept car by Mercedes-Benz named G-Code. It was presented at the opening of a new R&D center of the German automobile manufacturer in Beijing.
The egg-shaped car is inspired by the modern lifestyle of Asia's congested cities and it is packed with cutting-edge technology.
Among those is a multi-voltaic silver paint that turns the body into a giant solar panel. Instead of just passing the produced electricity to an internal battery, it is used for creating hydrogen fuel for the car's engine. It is interesting to note that the front and the rear wheels are powered by different sources – a hydrogen engine drives the front and an electric motor is responsible for the rear.
The face of G-Code shines in different colors depending on whether you are driving on pure electricity or with a hybrid all-wheel drivetrain. This is done by a large holographic screen behind the central three-pointed star in the grille.
When the doors open the show begins. All the major controls are in "rest" positions, but once people get in, the formula 1 inspired steering wheel unfolds and the pedals extend out to reach your feet.
Another handy feature of Vision G-Code is a docking station in the center console, which lets you start the engine with your smartphone. The interior is all trimmed in aluminum, carbon fiber and leather, probably made to attract traditional Mercedes luxury buyers.
The SUC (Sports Utility Coupé), as they call it, has big 21-inch wheels made up of aluminum rims with carbon spokes which make the vehicle look really cool from the outside.
If passengers have to get off the G-Code, they can use a mini electric scooter, incorporated in the boot floor, for extra mobility in urban environments.
The Vision G-Code is only a concept, but definitely shows us where Mercedes is heading in terms of design and technology. Are we going to see such technologies in Sprinter Vans? Only time will tell.
---