Exploring California (San Diego, Los Angeles) by Sprinter Van. Part 1
Posted on:
June 29th, 2017
---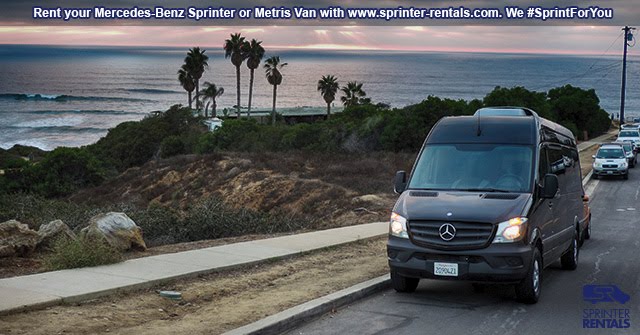 Enjoy the story of two guys exploring California told in first person:
We are on the cusp of a very big adventure. We're going to ride our van up the coast to Big Sur. We're heading to Santa Barbara and the Santa Ynez Mountains.
Let us tell you about the route we're going to take. We're here in Venice Beach, and we're going to take the PCH, Highway 1 all the way up the coast past Malibu, Ventura, hop on the 101, get to Santa Barbara, have lunch there probably, and then make our way up to the Santa Ynez Mountains. We're going to be camping tonight, which should be a good adventure.... a little bit of rough camping, a little bit of fine dining, a nice balance right there, and we're going to have a good time.
We are driving a nice Mercedes-Benz Comfort Sprinter Van and we are ready for an adventure. Let's go. Whoahoo. And we're off. Up here on the left, we have the world famous Malibu, small and fun as usual. It feels like we're already on the Central Coast here, leaving LA at Zuma Beach. The PCH is one of my favorite roads. How about you?
I love this road, man. Road it on my bicycle when I finished college, and now it's kind of cool to go up it on a van. I like it.
Stop number 1: Ventura County.
We just crossed County Line from Los Angeles to Ventura County, and we're pulled over real quick at Neptune's Net, a famous biker bar.
We're on the road. Yeah, man. I think it's official. We're out of LA, and you can already feel the climate change... it's a bit more country up here. There's more of a ranch vibe in a lot of spots, uncrowded coastline, and the PCH is going to be our guide all the way up to Big Sur with a couple detours. This is the artery of California , and I'm stocked to go explore.
Coffee break is completed. I think this is the northern most limit I've gone on the PCH on our van. We've done it by car, but for me, at least, this is all fresh territory moving north.
Next stop is Santa Barbara. We have a bit of driving to do before we get there. How far is it? 50 or 60 miles from here, 70? An hour and a half? It's going to take a while, yeah.
We should hit the road. Let's do it. Ladies and gentlemen, we have arrived to beautiful Santa Barbara, California. I really like coming back here. I went to school here, back in the day. Honestly, this is one of the prettiest towns in California. We're in the heart of the old Spanish city. There's a presidio here. There's a mission nearby.
On the way up here, we passed all these arched bells along the road on the 101, which is because the 101 was originally known as El Camino Real, a royal road that linked together all the missions which the Spanish built, which are the backbone of California. Each mission was about a day's journey apart on horseback, a journey being from the Latin word "for a day." This thing called the Land Shark just went by, and I'm having a serious college flashback.
It's basically an aquatic bus. Somebody in college rented it out for a birthday party. We put a keg on it, and we drove down State Street drinking beers. And then from State Street went straight into the harbor and had a boat tour with a keg. It was the coolest birthday party ever. The great thing about this part of the coast is how the mountain range just comes right down to the coast, which creates a really cool ecosystem, and it means that we can just leave the city and in a couple of minutes be way up in the mountains. I love how California has so many different ecosystems, and you can really feel the shift here. The water current off the coast is colder here than it is down in Los Angeles. It's because of the ocean currents from the Channel Islands. The Channel Islands were right on the edge of two different ocean currents. The one from the north is way colder. It brings a lot of nutrients... but also causes a lot of fog. It does get foggy, but when it's sunny, it is unbeatable, honestly.
Ladies and gentlemen, we are on Gibraltar Road. We've left Santa Barbara behind. We are up in the Santa Ynez Mountains. This road is gorgeous. It's beyond gorgeous. We're surrounded by all these beautiful mountains. We've got probably another 25 miles. It's super twisty, so we're taking our time. Oh the views. The views are to ride for.
We have finally arrived at our camp site tonight in this beautiful little oak grove. It's the golden hour, and we're going to claim the campsite. There's a fire pit down there.
And then hop back on the Sprinter Van and head to Cold Springs Tavern to get dinner and a drink. One of the reasons that we're traveling so light is that we're using Bivy Sacs. It's like a condom for your sleeping bag. It's a water proof layer that you put outside your sleeping bag. We're going to be able to sleep under the stars without a tent. It's generally the best campsite we could have found.
We've arrived at the Cold Springs Tavern. This place is so cool. It's nestled in a little nook here. It's from the old stage coach route, from the 1860s forward when this was part of the mail route. This place is incredible. It's so homey and vintage and western. The food looks amazing. It smells really good in here. That was quite a well deserved meal after an epic first day on the road. Today was one of the most fun days I have had in a very long time. And to end it with a legit meal...at a place as awesome and authentic as Cold Springs Tavern...I don't think there's a better way to end it. Except the fact that we're going to sleep in a forest. We're going to go camp under the stars.
Stay curious, keep exploring, and we'll see you on the road. The road trip continues. Stay tuned for part 2.
---