Brief description
Introducing the perfect cargo van for all your hauling needs - the Cargo Sprinter Compact! With a spacious 11 x 5 ft cargo space, you'll be able to move all your equipment, furniture, or supplies in just one trip. The Cargo Sprinter is a two-seater van, designed to give you maximum cargo space without sacrificing comfort.
The van features a side entry sliding door, making it easy to load and unload your cargo. The clean tech diesel engine provides excellent fuel economy, with an average of 20 to 22 miles per gallon. The automatic transmission ensures a smooth ride, even when carrying heavy loads.
The Cargo Sprinter comes with child seat compliant benches, so you can safely transport your little ones. The insulated roof and walls help to keep the cargo space and seating area comfortable, using just the front AC or heat.
If you're traveling with your furry friends, don't worry - most of our vans are pet-friendly. You can bring them along for the ride!
Take a look at our photos to see just how much you can fit in the Cargo Sprinter. And if you need even more space, we also offer larger Mercedes Benz Sprinters, including the XL Cargo Van, XL Crew Cargo van, or a XL Crew van with rear AC.
Reserve your Cargo Sprinter Compact van rental today and experience the ultimate in cargo hauling convenience!
---
Gallery
Cargo Sprinter Compact Dimensions
144-inch high roof version
Van height: 9.3ft. / 111.6 inches / 2.84m (C)
Van length: 19.46ft. / 233.5 inches / 5.93m
Cargo bed length: 11.08ft. / 132.9 inches / 3.38m (A)
Ground to first step-side: 1.73ft. / 20.8 inches / 0.53m
Load height, unloaded (ground to cargo floor):2.28ft. / 27.4 inches / 0.7m
Door opening-side (height): 5.97ft. / 71.6 inches / 1.82m
Door opening-rear (height): 6.06ft./ 72.7 inches / 1.85m
Dual door width-side: 4.13ft. / 49.6 inches / 1.26m
Door width-rear: 5.1ft. / 61.2 inches / 1.55m (B)
Max. cargo bed length: 11.08ft. / 132.9 inches / 3.38m
Cargo width at wheelhouse: 4.42ft. / 53.1 inches / 1.35m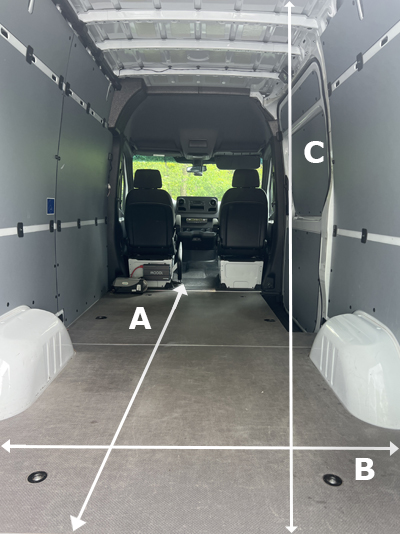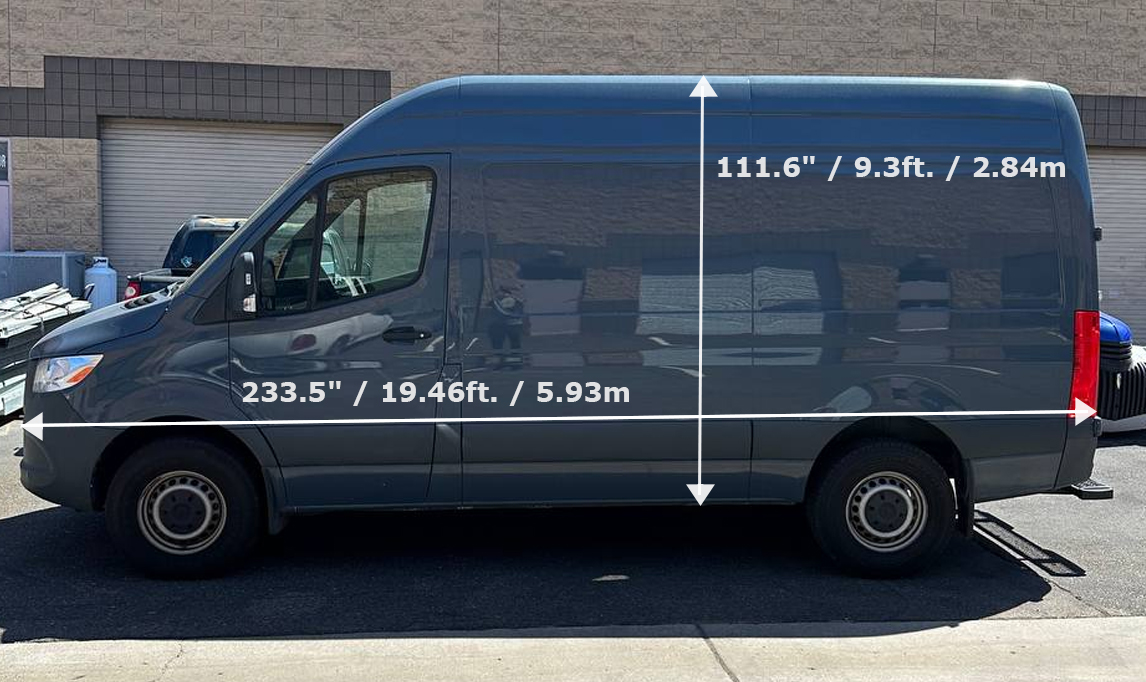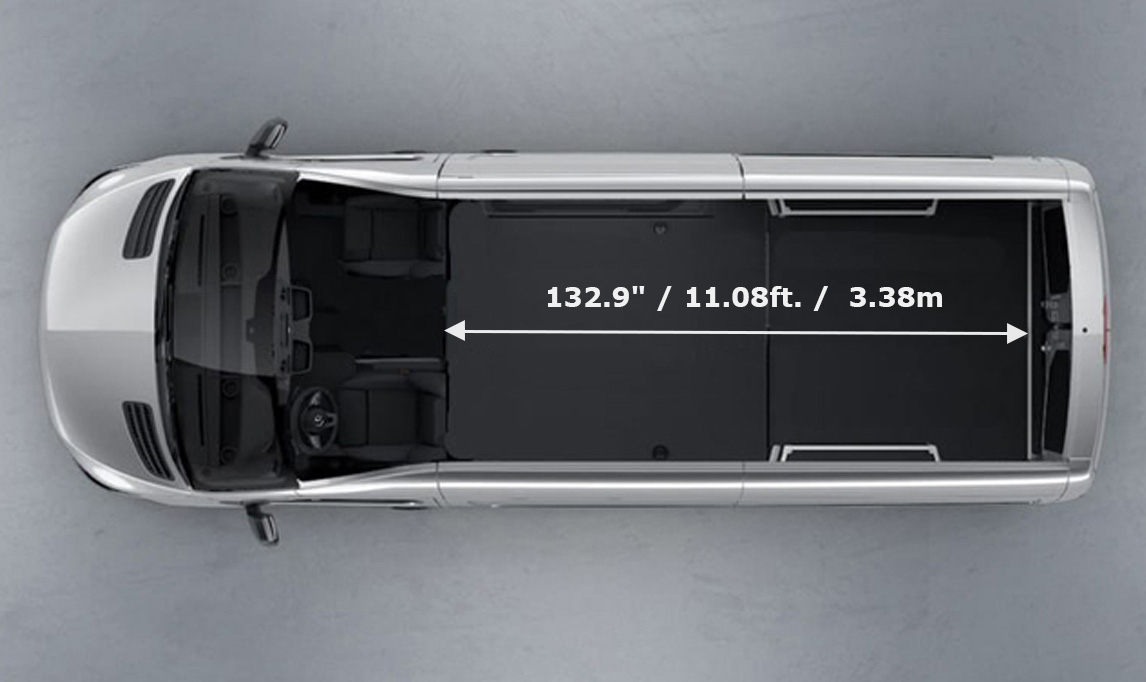 Quick Specs
Seats: 2 seats with headrests
Driver & Passenger bucket seats
Cargo Area: 8ft deep by 5ft wide as 2 seater
Cargo Bed Size, 101.2 x 70.1 inches
Maximum Cargo Width At Floor, in 70.1
Cargo Width At Wheelhouse, in 53.1
GCWR is the maximum allowable weight van+trailer 13,550
Payload, the amount of weight a vehicle can carry 3,171 lbs.
Unloaded Vehicle Weight (UVW). 5,225 lbs.
Max. loaded weight for the Crew Sprinter (GVWR) 8,550 lbs.
Interior Van Height: 6 ft
Fuel Economy: Up to 22 MPG gas
Towing: Available on some vans (max. 2500 lb)

Services available
Reasonably-priced pickup/delivery to your home or business
Counterless rental process
24/7 Attended free pick up and drop with reservation
One-way rentals available
Unlimited mileage
Nationwide deliveries

Features
Radio with AUX input, SD-Card Reader
Front/Rear Air Condition
Slightly reclining seats
Foldable rear seats for extra luggage space
Towing [note in your reservation during booking]
Blind Spot Monitors
GREEN FOR GREEN When it comes to emission Mercedes Benz bluetec engines with adblue are the benchmark when it comes to trying to lower emission while hauling cargo. AdBlue helps to reduce emissions of nitrogen oxides, or NOx, from your car's exhaust. Hybrids are not always better for the environment than diesel-powered vans. Studies have found that plug-in hybrids actually consume more fuel because they're heavier than diesel-powered vans, and require more trips, and energy to accelerate which makes their greenhouse emissions higher.
What's Next:
We have digitized the rental process and fully eliminated the rental counter interaction so you can be in and out in no time. You can conveniently make an online reservation here and e-sign your rental agreement a few days before your arrival.
Trips can start at any of our pick-up locations or request getting your van delivered.
Enjoy our hassle free - no questions asked full cancellation policy.